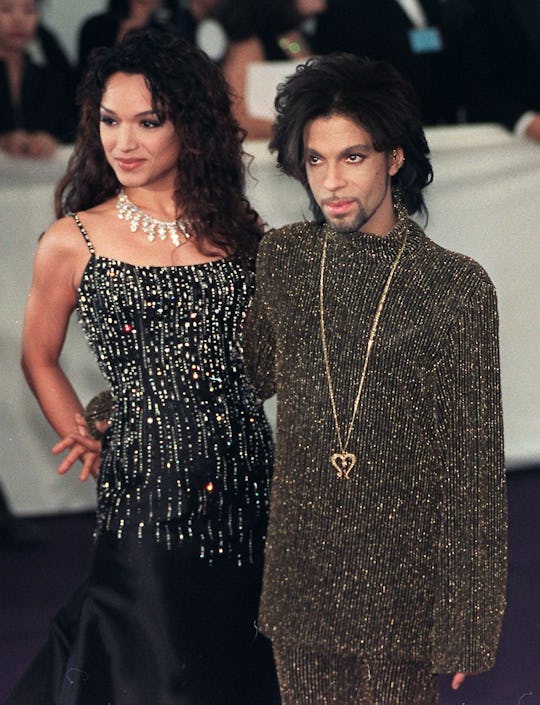 SINEAD LYNCH/AFP/Getty Images
Mayte Garcia Says Prince Is "With Our Son Now" In A Heartbreaking Statement
Prince's ex-wife, Mayte Garcia, released a statement Thursday afternoon after news of the singer's death spread. Garcia said Prince is "with our son now," and her words are seriously heartbreaking. Garcia was married to Prince from 1996 to 2000, and their son, Boy Gregory, died when he was just a week old of a skull deformity, according to People. Garcia met Prince when she was just 16, so losing him didn't seem like an option. She said he was her everything.
Her manager, Gladys Gonzalez, provided a statement to People:
I can't even think of the words of what I'm feeling. This man was my everything, we had a family. I am beyond deeply saddened and devastated. I loved him then, I love him now and will love him eternally. He's with our son now.
Garcia previously told The Mirror that losing their son in such a tragic way was horrible. But, then, when they tried to have another baby, Garcia miscarried, and that was what led to the end of their relationship:
To lose two babies is really scary... it really caught on me emotionally, physically, everything. It took me at least 15 years to get over it and still, to this day, I miss my son. I believe a child dying between a couple either makes you stronger or it doesn't. For me, it was very, very hard to move forward and for us as a couple I think it probably broke us.
Early on Thursday, police reported that they were investigating a death at Paisley Park studios, which is where Prince lives. Hours later, his publicist confirmed that it was Prince who had died. Carver County Sheriff Jim Olson said police responded to a medical call from the home and found Prince unresponsive in an elevator, according to CNN. They tried to revive him with CPR, but were unsuccessful.
The grief from fans was so great Thursday that it made Prince's Instagram page temporarily inaccessible. Fans were commenting on images from the page and using it as some kind of digital memorial. Additionally, the webpage that the musician tweeted, just days prior to his death, where fans could buy his newest album was overloaded with traffic and was also functioning slowly. The love for Prince was real, or, as many fans said, Prince's death was what it "sounds like when the doves cry," in a reference to his "When Doves Cry."
Garcia is not alone in her mourning, but she clearly knew the musician in ways that the rest of the world didn't.