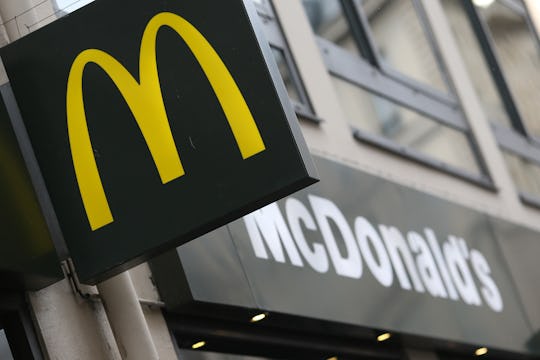 KENZO TRIBOUILLARD/AFP/Getty Images
McDonald's Issues Fitness Tracker Recall, After Parents Claim The Toy Caused Burns
Let's all just get on the same page right now. It may have seemed a little odd to some that a fast food chain would put a knock-off FitBit in its kids' meals. Unfortunately, before the company even had a chance to really promote those wristbands, McDonald's was forced to issue a fitness tracker recall, pulling the toys from all Happy Meals.
The recall itself voluntary, according to the company statement, because it's received reports of skin irritation or outright burns from customers whose children received the toys in their Happy Meals. So far, there have been about 70 reports of injury and seven of those have been "blistering burns."
Two types of toys are being recalled. They're all the "Step It" activity band or "Activity Counter," in blue, green, and orange, and the "Light Up Band," which tracks the users movement and comes in yellow, red, and purple.
If you have any of these toys lying around the house (or, more likely, in the backseat of your car), you can bring them back to the store and get a free Happy Meal, with a yogurt or a pack of apple slices, according to McDonald's official statement. Those healthy desserts or snacks are probably better in general for the well-being of a child anyway (or a grown-up who likes a deal on a cheeseburger and small fries). Right?
The idea of putting a fitness themed toy in a Happy Meal is a nice move by the fast food company. Unfortunately for McDonald's, the flaw wasn't caught before workers began stocking the 29 million units in the United States and 3.6 million in Canada.
Casey Collyar, an Arkansas mom, posted one of the first reports of injury on Facebook after her child allegedly wore the device for eight minutes. Collyar wrote that it was the "red light in it that is powered by the battery on the back that possibly is the cause of the burn."
This is the one of the largest recalls McDonald's has made issued. In 2010, the company had to recall a Shrek drinking cup it sold for $1.99 with any $2.49 purchase. The cup had paint on it that contained cadmium. McDonald's paid $3 for every cup returned. In 2015, it was also forced to recall Minion toys that allegedly said "What the F-ck."
In a press release, McDonald's stated:
Nothing is more important to us than the safety and well-being of our customers which is why upon learning about concerns with these bands we acted swiftly to stop distribution of these products.
McDonald's has apologized for the "inconvenience." Of course it's the inconvenience of having to return to the drive-thru and claim a free meal isn't what bothers parents — it's about a child getting burned or ingesting materials on a cup that hasn't been appropriately vetted. McDonald's, of all places, has the resources to do some quality control, and luckily, it seems to be doing just that.