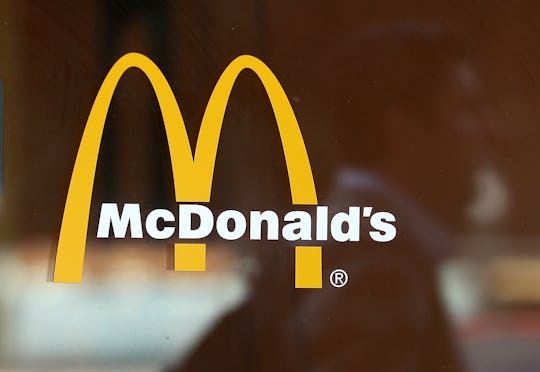 Justin Sullivan/Getty Images News/Getty Images
McDonald's New Breakfast Sandwich Is A Pregnant Person's Dream
The restaurant nicknamed the Golden Arches has seemingly been around forever... but the menu is clearly in the middle of a rebranding. You might have thought it was going "light," but, in fact, in the case of its newest offering, the opposite may be true. Featuring cheese, sausage, bacon and biscuits, McMuffins, or McGriddles cakes, however, the just-introduced McDonald's new breakfast sandwich is a pregnant person's dream... even if it doesn't make any nutritionist's list.
The new, butter- and protein-heavy breakfast choice, which was just announced by the chain, is dubbed "Triple Breakfast Stacks," and is inspired by the off-menu ordering that McD's customers already do using the popular Egg McMuffin menu (which includes the Sausage McMuffin, the Egg McMuffin, the Egg White Delight McMuffin).
Thus, two slices of American cheese, two sausage patties, Applewood-smoked bacon, and an egg can be mixed and matched on McMuffins, buttery biscuits, or McGriddles cakes. It's also the first new breakfast menu item in five years, the restaurant chain confirmed.
It's also just the kind of intense food item thing that often works for first-trimester queasiness, which sounds counter-intuitive. I know my preferences for "light" dishes such as salads often went right out the window during early pregnancy (except for one pregnancy, where I only wanted lemons).
According to McDonald's, the public's preference for creating "Secret Menu" items, where they can build their own breakfast, is what's behind the addition. "People have been hacking our menu for years — so much so that it's inspired our new Triple Breakfast Stacks," Mike Haracz, the company's manager of culinary innovation, explained in a statement.
"We love seeing the fun ways our customers and McDonald's crew have been creating their own takes on our classics," the restaurant's top chef added. "We can't wait to see what they come up with next — you never know what might end up on our menu."
The company kind of started the whole breakfast thing, according to its website. "McDonald's has been a leader in the breakfast category since the innovation of the iconic sandwich in 1971 – the Egg McMuffin," the press release about the new morning menu read.
According to CNN, this is a good move on the franchise's part, because, with customer sales down overall, it makes sense for McDonald's to focus on new breakfasts, a food category where there's a lot of competition. Since there's so much out there, the chain has to do something to catch customers' attention. Even Taco Bell and Dunkin' Donuts have gotten itself into the breakfast biz with various sandwich combos, CNN added.
It's also smart of the chain to tap into the "customization" trend, which is huge. Just today, I heard there was a secret, customized Halloween menu at Starbucks. Who knew? I knew about pumpkin lattes, but beyond that, I'm out. People like to feel they are being given their own choices, even if you're just rolling through a drive-thru. And I'm imagining this stomach-stabilizing dish would work for hangovers, too, and The Takeout seemed to agree.
Another smart move: the Triple Breakfast Stacks will only be available Nov. 1 through December, making it a limited-time-only thing you might have to go try before it — or your pregnancy cravings — are gone.