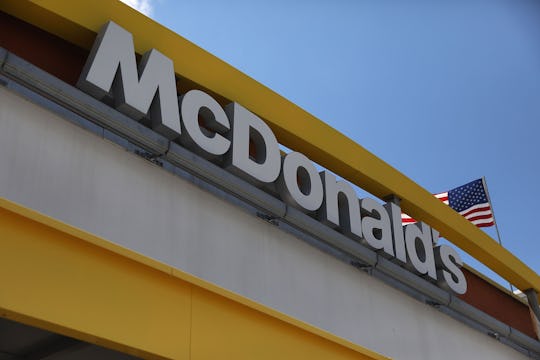 Joe Raedle/Getty Images News/Getty Images
McDonalds Salads Have Reportedly Been Linked To A Parasitic Outbreak
Before people go ahead and purchase a salad from McDonalds over the weekend, they might want to pay attention to new reports from the midwestern region of the United States, which might have them rethink their decision. Although salads might seem like a healthy option, new investigations from two states in the midwest might have some reconsidering their choices. This is because McDonalds salads have reportedly been linked to a parasitic outbreak, according to the New York Times, which is understandably scary. A representative from McDonalds did not immediately respond to Romper's request for comment at the time of publication.
Two states in the midwest, Illinois and Iowa, have reportedly found a link between an intestinal parasite and consumption of McDonalds salads, according to the New York Times. The Illinois Department of Public Health announced on Thursday that an initial investigation into 90 cases of food borne illness, or cyclosporiasis, in the state indicated a link with consumption of salads from McDonalds. And in Iowa, there are reportedly 15 identified cases "linked to the same illness and parasite" and reported consumption of McDonalds salads, according to TIME. The Illinois Department of Public Health found that one-fourth of the people who came down with cases of cyclosporiasis in the state had reported eating salads from McDonalds before they became sick, which was the same in Iowa, according to the Illinois Department of Public Health.
This is understandably a bit worrisome for some parents — especially since the symptoms associated with cyclosporiasis aren't necessarily the easiest to deal with, according to CNN.
Once a person is infected with cyclospora, according to the Centers for Disease Control and Prevention, they typically won't notice that they're sick until about a week later. But once the infection happens, a person who has cyclosporasis will experience frequent (and sometimes explosive) bowel movements, watery diarrhea, fatigue, loss of appetite, weight loss, and nausea, among other symptoms, according to the CDC. Needless to say, this is pretty debilitating for any parent or person on the go. So, it's understandable why someone might want to know a little bit more about the reported outbreak.
Because of this reported link in the findings from these states, according to the New York Times, McDonalds reportedly "stopped selling salads at about 3,000 restaurants in the midwest" — where the link was first found — and was working to remove the lettuce from those locations. McDonalds told the New York Times in a statement:
McDonald's is committed to the highest standards of food safety and quality control. We are closely monitoring this situation and cooperating with state and federal health authorities as they further investigate.
But, the infection is treatable, according to the CDC, so those who think they have been infected with cyclospora should see their healthcare provider. It's also important to note that this reported link between cyclospora and McDonalds salads in these states is just a link and, according to the Illinois Department of Public Health, public health officials in the Illinois are investigating other possible sources for the outbreak.
But now that the reported link has been made with the parasite and salads from McDonalds in Idaho and Illinois, it's important that people who have come down with the symptoms associated with cyclosporasis should go to the doctor, according to the Gazette. Dr. Patricia Quinlisk said in a statement from the Iowa Department Of Public Health, according to the Gazette:
Anyone who ate these salads since the middle of June and developed diarrhea, especially watery diarrhea and fatigue, should see their healthcare provider and get tested for cyclospora to ensure an accurate diagnosis and appropriate treatment.
There you have it. But just because this reported link has been made, people shouldn't use this as a solid reason to break their diets and avoid eating leafy greens all summer.