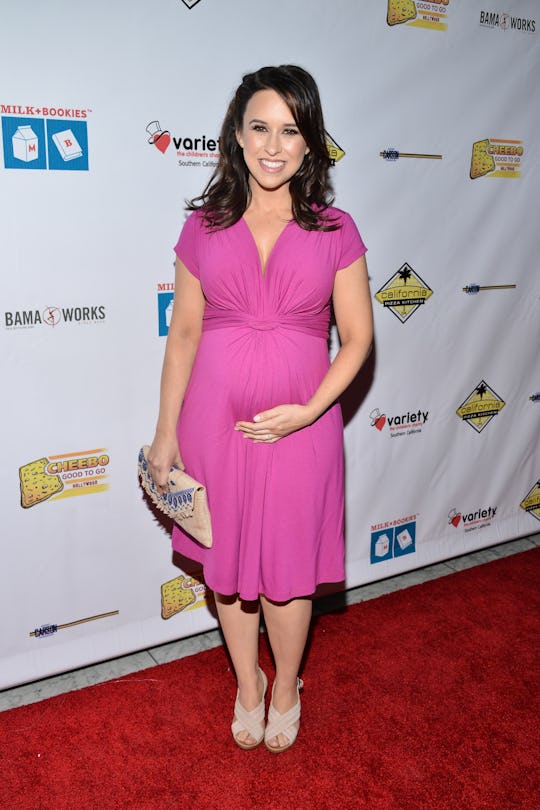 Araya Diaz/Getty Images Entertainment/Getty Images
'Mean Girls' Lacey Chabert Says Pregnancy Is Making Her Crave All The Vinegary Foods
Only two months ago, Mean Girls star Lacey Chabert announced her pregnancy and was showered with Gretchen Weiner-related congratulations. Now, Chabert says she's craving vinegary foods, and that she's decided being pregnant is more fun with friends. The actress has been juggling the filming of Acre Beyond the Rye, attending friends' baby showers, and experiencing the highs and lows of her first pregnancy along with husband Dave Nehdar.
"It's just so exciting. We feel so blessed to be going through it," Chabert recently said, according to People. Chabert said she'd had a few challenges throughout the first trimester, but was now feeling great and craving all manner of salty, lemony, and vinegary foods.
She also spoke about going through pregnancy at the same time as many of her friends, who are all varying stages of motherhood themselves: actress Amy Davidson welcomed her son Lennox in March; former Bachelorette Ali Fedotowsky is expecting a baby girl in July; and actress Ashley Jones is expecting her son in May. Besides rotating baby showers, the women have been supporting each other throughout their pregnancies. As Chabert told People:
It's really nice to go through pregnancy with friends because your body is just changing in so many ways and so many things are happening that cause concern. To be able to turn to my friends and ask for advice has been really, really nice.
It's a sentiment echoed by mama-to-be Ashley Jones. "There's nothing like having a village of women supporting you," she said after her baby shower (which Chabert attended, of course). These ladies are obviously doing it right — emotional support is a protective factor against postpartum depression, and women who have been pregnant before offer high levels of support and empathy. (Plus, how cute is a photo with that many pregnancy bumps involved?)
That's not to say that all advice Chabert has received has been welcome — a complaint most expecting mothers can commiserate with — but she's taken it well. "People give you tons of unsolicited advice on how to raise your child and birthing methods," she told People. "I appreciate all of the advice [but] you have to take some of it with a grain of salt and just figure out what's best for you."
Chabert's also taken her pregnancy with a touch of humor, recently tweeting, "Spent 30 min at home looking for a dress that I dropped off at dry cleaner an hour ago. I also found my phone in fridge. #pregnancybrain #itsarealthing."
Personally, I'm looking forward to seeing these ladies' posts morph from snaps of bumps to pictures of new babies. I have a feeling we'll see some playdate updates coming from this group of gorgeous mothers soon.