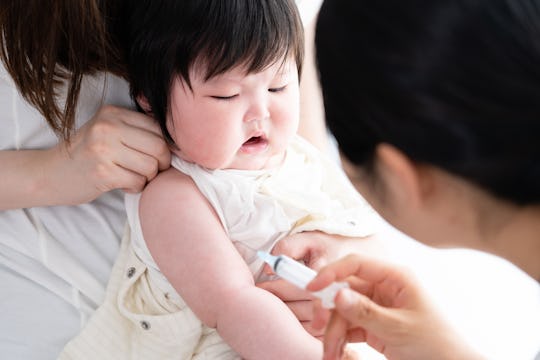 Fotolia
Measles Cases Have Hit A Record High In Europe For This Upsetting Reason
In very distressing public health news, more than 41,000 people have been infected with measles in Europe in the first six months of 2018, and measles cases have hit a record high in Europe, according to the BBC. That statistic is based on a report from the World Health Organization (WHO), released on Monday, which reported that when it comes to the number of cases of measles in Europe, "the total number for this period far exceeds the 12-month totals reported for every other year this decade." Yikes. And the most worrying part is, there's a good chance many of these outbreaks could have been prevented.
At least 37 people have died so far from measles in Europe this year, according to CBS News. And Dr. Zsuzsanna Jakab, WHO Regional Director for Europe, said in a statement that it all might come down to good vaccination practices. Jakab said, according to WHO's website, "...we are seeing a dramatic increase in infections and extended outbreaks. We call on all countries to immediately implement broad, context-appropriate measures to stop further spread of this disease."
Jakab added that, "Good health for all starts with immunization, and as long as this disease is not eliminated we are failing to live up to our Sustainable Development Goal commitments."
Romper requested comment from officials at WHO regarding how this high rate of cases of measles in Europe may specifically impact children and families, but did not immediately receive a response.
Last year there were nearly 24,000 cases of measles in Europe during the whole 12 month period, according to The Guardian. That's compared to the extremely high number of cases in the region in just the first half of this year alone.
The European Regional Verification Commission for Measles and Rubella Elimination (RVC) says some European member states have "low immunization coverage," according to WHO. And it's immunization, the organization believes, that can stop this alarming trend of measles cases.
"The current outbreaks threaten the lives of children and adults, and put the progress that has been made so far at risk," Dr. Mark Muscat, technical officer with the vaccine-preventable diseases and immunization program at the WHO's Regional Office for Europe, told CNN. "This is an unnecessary and unacceptable tragedy when we have a safe and effective vaccine available to prevent the disease."
Indeed, WHO says in order to prevent outbreaks of measles, a minimum of 95 percent immunization coverage, with 2 doses of measles-containing vaccine, is necessary each year in every community. And while that sort of coverage increased from 88 percent of eligible kids in the region in 2016, it was only at 90 percent in 2017, WHO reported.
Half of the cases in Europe so far this year occurred in Ukraine, CBS News reported, with over 23,000 people affected there. France, Georgia, Greece, Italy, the Russian Federation, and Serbia also had more than 1,000 infections each, WHO reported.
Jakab stressed that immunizations are key in lowering the number of measles cases. He said, according to the WHO report:
We can stop this deadly disease. But we will not succeed unless everyone plays their part: to immunize their children, themselves, their patients, their populations – and also to remind others that vaccination saves lives.
Measles can almost always be prevented with a vaccine, the Mayo Clinic reported. It can be serious and even fatal, particularly for small children, and causes symptoms such as fever, a dry cough, runny nose, sore throat, inflamed eyes, "tiny white spots with bluish-white centers on a red background found inside the mouth on the inner lining of the cheek," and large, flat "blotches" that make up a skin rash at the very least, the Clinic reported.
And again, all of those symptoms and a possibly tragic outcome are almost completely preventable. Vaccinations are so important, and it's so critical that the highest number of kids possible get measles vaccinations for coverage numbers to go up and outbreak numbers to go down.
Hopefully, with the help of preventative measures like immunizations, the number of measles cases in Europe this year is the highest it will go, and the region will never see such an alarming statistic when it comes to measles infections ever again.