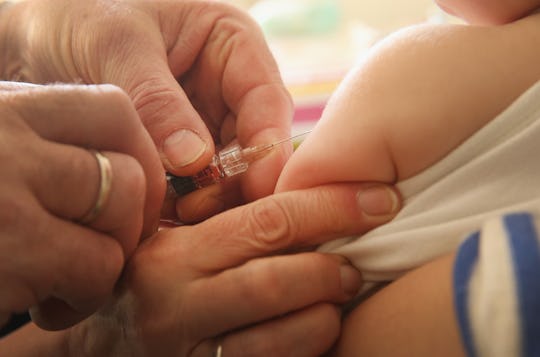 Sean Gallup/Getty Images News/Getty Images
Measles Outbreak Linked To Vaccine-Autism Myth
A measles outbreak affecting mostly Somali-American children in Minnesota has health officials urgently fighting to contain the problem. Health officials there have identified 34 cases, mostly in Hennepin County, of a measles outbreak linked to vaccine fears — because many in the community are concerned that getting vaccinated can lead to autism, a claim that has been discredited many times. But debunking hasn't stopped the unfounded claims, and now, lots of kids are getting very sick as a result.
According to NPR, the Minnesota Department of Health said the outbreak began in Hennepin County, which is home to Minneapolis — the biggest city in Minnesota — and considered part of a major metro area near the state capital, St. Paul. It is also considered the "heart" of the country's Somali-American community, and most of the children affected by the outbreak of measles are of Somali descent, according to ABC News.
In the state, the "vast majority of kids under 2" are vaccinated against measles, according to NPR. But state health officials also say that most Somali-American 2-year-olds — about six out of 10 — have not had the vaccine at all. And one shopper at a mall in the area, Khadra Abdulle, confirmed why some parents in the Somali-American community there aren't getting their kids vaccinated: "They believe it causes autism," she said.
According to the Centers for Disease Control and Prevention, measles is a highly contagious virus that causes a rash and fever. It can be deadly, but the CDC says getting two doses of vaccination is about 97 percent effective in keeping the disease at bay.
And while Somali-American leaders in the state agree with the Minnesota Health Department in attempting to quash pseudoscience behind the claim that getting vaccinated can lead to autism, NPR reported that anti-vaccine groups are still fanning fears of the unfounded link in spite of the outbreak. This could spell disaster for children who are unvaccinated or for whatever reason can't get the vaccine against measles.
Kris Ehresmann, the infectious disease division director at the Minnesota Department of Health, told NPR that the Minnesota measles outbreak is a "public health nightmare" partly because having a lot of unvaccinated people in densely populated neighborhoods can fuel the outbreak. But despite a campaign by anti-vaccine advocates, public health officials have mobilized to try to educate the community. Ehresmann said:
We've had people on Somali TV, Somali radio. We've participated in chat rooms. The commissioner met with imams to talk to them about how we can work with the faith community to do outreach.
ABC News reported that, as of Wednesday, 34 measles cases were confirmed in Minnesota. That means this is the largest outbreak in the state since 1990. In that instance, 460 people contracted measles and three of them died. So far, 11 children have been hospitalized, and Ehresmann told that outlet the source of the outbreak is still unknown.
The Somali-American community's immunization rate fell to 70 percent in 2008, according to ABC News, "amid a perception that autism was becoming more common among Somali children." But Ehresmann said a University of Minnesota study that examined 7- to 9-year-olds in Minneapolis back in 2010 found "no statistical difference between the rate of autism among Somali children and white children."
As Patsy Stinchfield, senior director of infection control at Children's Minnesota hospital, told that outlet, evidence-based research has shown no relationship between the MMR vaccine and autism over and over again. She said there should be no hesitations about the vaccines, and stated:
In medical science, there is no debate about the safety of vaccines.
In spite of the overwhelming evidence refuting the myth that vaccines cause autism, the outbreak in Minnesota seems to be spreading partly as a result of that very fear. More than 30 children in recent weeks have been impacted by the outbreak because many parents there are avoiding the measles-mumps-rubella vaccine.
NPR reported that prior vaccination is crucial in keeping people from contracting measles if they are exposed, so it's extremely important for parents to consult with pediatricians and to get their children vaccinated. To learn more about measles and to how to protect kids against it, visit the CDC's website and their frequently asked questions page.