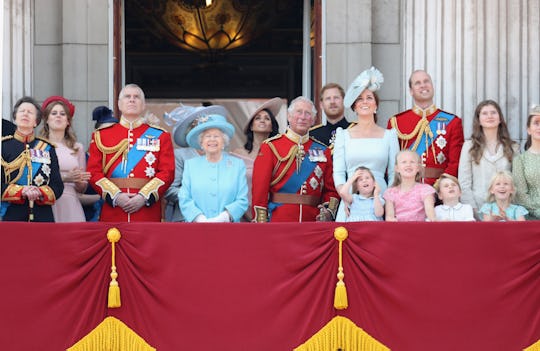 Chris Jackson/Chris Jackson Collection/Getty Images
Meet Queen Elizabeth's Cousin, Lord Ivar Mountbatten, The First Openly Gay British Royal
There's just good news after good news coming from the royal family these days. It's like every time we open up Twitter, there's a new baby or wedding announcement. And as much as we love babies and Meghan Markle, the best news so far has been that Queen Elizabeth's cousin is going to marry his partner in the first ever same-sex marriage in the royal family. It's about time, right? So let's get to know this trailblazer. Who is Lord Ivar Mountbatten and why is the first time we've ever heard of him?
First things first, Mountbatten has what might be the best royal name ever — where did he get it? The 55-year-old is the great-great-great grandson of Queen Victoria, so he is a the third cousin, once removed of Queen Elizabeth, and a closer cousin to her husband, Prince Philip, according to USA Today. If you watch The Crown on Netflix, you might recognize the name "Uncle Dickie," or Lord Louis Mountbatten, who helped get Queen Elizabeth and Prince Philip together — Ivar is Uncle Dickie's nephew. So, that's where he falls on the family tree.
Mountbatten is a farmer and a trained geologist, which in royal family terms basically means he's an aristocrat, according to Pink News. In 1994, he married Penelope Thompson and they have three daughters together, Ella, 22 years old, Alix, 20 years old, and 15-year-old Luli. Pink News reports that Thompson will be walking him down the aisle, proving that things really do get better once you accept yourself and others. She said, according to USA Today, "It was the girls' idea. It makes me feel quite emotional. I'm really very touched." She added that her ex-husband is "so much more relaxed these days. He's so much kinder."
The couple had, according to USA Today, a happy marriage, but divorced in 2011, in large part because of his then-secret sexual orientation. He came out publicly in 2016 as a gay man and announced that he was in a relationship with James Coyle, an airline cabin-services director that he met at a ski resort, last March. Mountbatten said in an interview with The Sunday Times this week, "I am a lot happier now, though I am still not 100 per cent comfortable with being gay." He added:
Being a Mountbatten was never the problem, it was the generation into which I was born. When I was growing up, it was known as 'the love that dare not speak its name', but what's amazing now is how far we have all come in terms of acceptance.
Mountbatten added that he came out as bisexual to Thompson before they married. He said:
I never thought I would get married because I didn't want to be untruthful. Penny was aware before we got married. I told her I was bisexual, that my attraction went both ways. She was understanding and I will always be grateful to her.
Even though he knew he was bisexual as a teen, he remained in denial about his sexuality, according to The Independent. Mountbatten said in the Times interview,
I just did not want to [come out] because there would have been so much grief … I was driven into the closet by not wanting to come to terms with who I was and facing friends and family in the early years. I buried it. I even had girlfriends as I tried to work out what I wanted to be. It was not an easy time in my teens or 20s.
Mountbatten and Coyle plan on getting married at the end of the summer in Devon, at the Mountbatten estate. Although it might be a smaller affair than the Duke and Duchess of Sussex's wedding this spring, it will definitely be an event to remember.