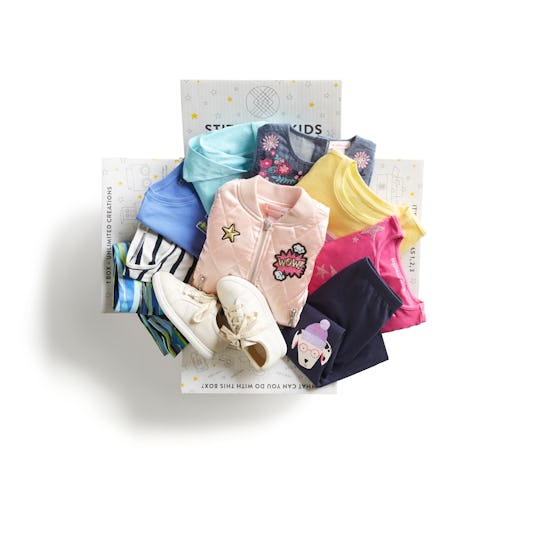 Courtesy Of Stitch Fix
Stitch Fix's New Styling Service For Kids Is Surprisingly Affordable
Clothes shopping for your child can be an overwhelming experience, given the loads of fashion options for kids today. It's easy to get lost in the racks. But because Stitch Fix launched a kids' line of clothes, dressing your child just got easier than ever. Frantically pulling together a kid-friendly outfit every morning may be a thing of the past.
Stitch Fix Kids offers parents an easy, personalized way to dress their kids for school, playtime, and even bedtime. With clothes ranging from sizes 2T to 14, these unique and personalized clothes can fit kids of any age. Plus, at an average price of $10 to $35 per item, it's an affordable option for many families. Best of all, the service requires no membership or subscription, allowing parents and kids to get a fashion fix at their own pace.
In general, parents can expect an easy, personalized shopping experience from Stitch Fix Kids tailored to your child's needs and personality. "Stitch Fix Kids helps kids discover their own personal style while giving them the confidence to be themselves," Carla Feely, vice president of Stitch Fix Kids, tells Romper. "We know that when our clients look great and feel confident in what they're wearing, it opens up a world of possibility for them. We want to inspire that same confidence in kids." Hey, confidence looks good on everybody.
Plus, Stitch Fix Kids also offers a huge range of brands you already know. Over 50 brands are available at launch time, including DL 1961, Hanna Andersson, Joules, Nike, Sovereign Code, Tailor Vintage, Threads 4 Thought, TOMS, and Under Armour. Stitch Fix's own brand, Rumi + Ryder, also offers a wide selection of play clothes and other essentials for kids. The brands and clothes are selected to withstand the active, adventurous lives of kids who love to play.
Joining Stitch Fix Kids is an easy way to streamline clothes shopping for your entire family. To start, you fill out a Style Profile for your child, then select the date to receive the clothes. Each Fix box delivers 8 to 12 items personalized to your kid's style and interests, including complete outfits. But you're under no obligations. Simply buy what you and your kid like and then return the rest. Oh, shipping is free both ways. If you wind up keeping everything in the box, Stitch Fix treats you to a 25 percent discount on the purchase price.
Using Stitch Fix Kids is a simple way to build a wardrobe for your kid with entire matching outfits that are already chosen. Someone else does the work of picking out clothes and matching them together, so all you have to do is actually put them on your kid.
The option of online personal shopping for children really starts to make sense when you consider the easy, commitment-free aspects of Stitch Fix Kids. You don't have to spend time digging through racks of clothes to find your kids' size, or deal with dressing room meltdowns. Just try on the clothes when you and your child get a minute, keep what you want, and go from there. Don't you wish back-to-school shopping had been this pain-free when you were a kid?
Founded in 2011 by CEO Katrina Lake, Stitch Fix has reinvented and personalized the entire experience of shopping for clothes. Since the company's launch, Stitch Fix Stylists have helped millions of women and men dress stylishly with hand-picked apparel, shoes, and accessories. Basically, you can look well put-together and stylish with almost no effort, which is pretty revolutionary. Celebrities have long relied on stylists for help with their wardrobes, and now plenty of other people are benefitting from the same type of service.
For the company, adding the kid's line was just a natural progression. "At Stitch Fix, our goal has always been to help our clients discover products and styles they love," said Katrina Lake, founder and CEO of Stitch Fix. "Now, we want to inspire the same confidence in our littlest clients. Stitch Fix Kids is a fun and engaging way for kids to find clothes they love and feel their best in, while saving parents time." Overall, outsourcing your kid's wardrobe collection might make your life a little bit easier.