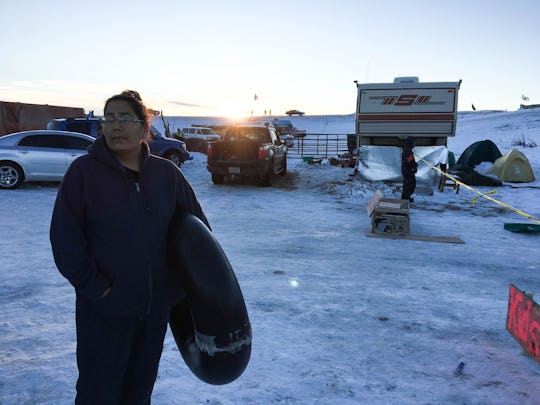 Courtesy of Britany Robinson
Meet The Activist Moms Who Are Leading The Protests At Standing Rock
STANDING ROCK — Squeals of delight echoed across a snow-covered hill at the Sioux reservation Standing Rock, as a dozen children enjoyed some recently donated sleds.
One young sledder zipped off course and ducked just in time, barely missing a tipi pole. Parents and onlookers exhaled with relieved laughter when he popped back up, rosy-cheeked and giggling.
For more than eight months, members of the Standing Rock Sioux and fellow Native Americans, along with thousands of allies from all over the world, have gathered at several camps to protest the construction of the Dakota Access Pipeline, which they argue will cut through sacred lands and endanger their water source.
The brief moment of celebration was particularly cathartic, in light of the day's earlier news at Oceti Sakowin camp, the main encampment for water protectors, that the Army Corps of Engineers had denied the easement for construction of the controversial pipeline underneath Lake Oahe.
Deborah Rousseau, a member of the Standing Rock Sioux and a mother of two daughters, was stationed at the base of the sledding hill, monitoring the kids as they played. Despite recent bouts of disturbing violence against protesters, or "water protectors," as they prefer to be called, many moms like Rousseau have been coming to the site with their children. While she acknowledged that some people might think the camps are dangerous, she returns every weekend with her two girls, Erica, 16, and Abby, 11, as well as her brother's twins.
"It's peaceful," she said, gesturing with a sweeping arm across the hill.
The Standing Rock protests have inspired many Native American families to take part in the historical protests, with many traveling across the country to spend many nights camping in wintry conditions. It is the largest gathering of Native American tribes in more than a century, according to the New York Times. Families from tribes all over the country are here together, proud to involve their children in this fight for tribal sovereignty, native rights, and to protect their water from potentially devastating oil spills.
Many members of the younger generations have already taken up this struggle as their own. A group of Indigenous youth activists have been at the forefront of this fight against the "black snake", which Lakota prophecy warned would slither across the land and poison the water. It was also youth activists who started the protest camp at Standing Rock in April, and then took their message to Washington, D.C. on foot, running 2,000 miles to protest at the White House.
"They know their grandfathers [by being here]. They know their cousins now. We have family here they never knew before."
The presence of children at Standing Rock is profound for all water protectors, both Native and their allies. It's a reminder to the water protectors that they're fighting for them, and that they must set an example of what can be accomplished through non-violent action.
One of the pillars of camp is individual contribution: everyone must carry their own weight, including the kids. Rousseau told me that Erica and Abby regularly chop wood and help their family members sort through supplies.
Despite the hard work, "they love it here," Deborah said as her girls finished up their last run. The sun was dipping behind the hill, and the temperature was dropping. "They never want to leave."
"They know their grandfathers [by being here]. They know their cousins now," Rousseau added. "We have family here they never knew before."
For generations of people of Native American descent who have been stripped of their land, Standing Rock has become a place of healing as well. The action has created the opportunity to reconnect with family, mend conflicts between tribes, and honor sacred traditions.
But with construction equipment still looming just beyond camp, the focus always returns to the work left to be done, and protecting the future of Standing Rock for children.
Tracy Rector, who is Seminole and based in Seattle, brought her son Solomon, 15, to the protests at Standing Rock, although he had returned several weeks earlier to complete his final exams when we spoke on the phone.
"I think it was the 'cool factor' of being part of a protest that piqued his interest at first," Rector said, of her son's initial reaction to her suggestion that they both go to Standing Rock.
"I got to see him as a young man in this environment. That made me really proud."
At first, she wasn't sure if her son's teachers would approve of her bringing him to Standing Rock. But his teachers had been fully supportive of his participation. In fact, they told Rector that the protests were history in the making and if he could attend, he should.
The Rectors attended camp meetings and peaceful protest trainings. Solomon expressed interest in joining the front lines, but his mother wanted him to steer clear from any potential violence. While images of water protectors being shot with rubber bullets and hosed in sub-freezing temperatures dominated headlines, the Rectors hoped to share narratives of peace: Tracy conducted filmed interviews with water protectors, and Solomon took photos.
While the Rectors regularly attend pow-wows and are involved in the Native community in Seattle, at first Tracy wasn't sure how the experience at Standing Rock would affect Solomon. Eventually, however, she was able to witness her son interact with their native community in a way that he hadn't been able to back home.
"I got to see him as a young man in this environment. That made me really proud," she said.
Rector was astounded by the changes she saw in Solomon after spending a week among the community at Standing Rock. "He told me the experience made him realize that he's lacking spirituality in his life," she said.
The day after the children went sledding down the snowy hill, a blizzard hit camp, prompting many families to return home. The hill was quiet in the days that followed, with many struggling to adjust to the plunging temperatures and snow. As the weather worsens in the coming months, non-native protesters have been encouraged to return to their families.
But some of these families feel like they are already home. The Dakota Access Pipeline is cutting through land that was established as part of The Great Sioux Reservation in the 1868 Treaty of Fort Laramie. The government has failed to uphold that treaty, but approximately 8,000 Sioux members still live on the Standing Rock reservation, according to the Washington Post.
Deborah Rousseau, her two daughters, and her mother who is 75, returned to her home on the Standing Rock reservation at night, instead of continuing to camp in the cold. Despite the exciting news from earlier that day, they'll keep coming back. After all, the oil companies are not going to back down, and this fight is far from over.
"We'll keep coming here, every weekend," said Rousseau. "We'll keep coming as long as it takes."