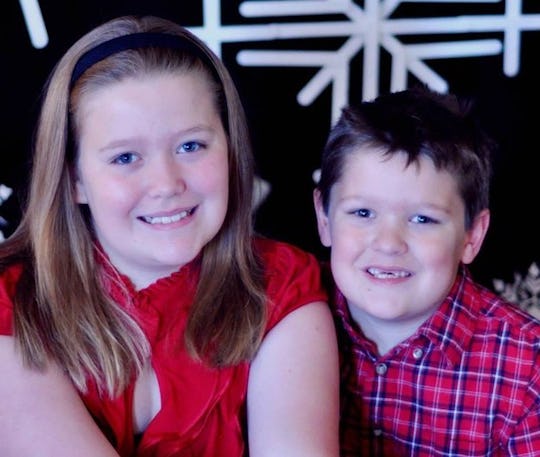 Courtesy of Megan Harris
Megan Harris' Daughter Was Allegedly Told To Wear Shapewear At Dillard's & Her Reaction Was Perfect
It's not easy to be a 13-year-old girl sometimes (or, let's face it, a girl in general), especially since body image struggles are so real and painful, particularly at that young age. It can be hard to escape from the myriad fat-shaming messages that many people spew on a regular basis — even the supposedly "helpful" ones about how being fat is unhealthy — but getting told by a sales associate in a dressing room that you need to wear SPANX? That's pretty shocking. According to BuzzFeed, Wichita, Kansas, resident Megan Harris was out shopping for dresses with her daughter, Lexi Harris, when a Dillard's employee allegedly said Lexi needed slimming shapewear if she wanted to wear the dress she'd tried on. Megan called out the sales associate on Facebook following the incident to stick up for her daughter, and, unsurprisingly, the post went viral, gaining over 400,000 likes and more than 73,000 shares as of Wednesday.
In her post, Harris wrote about the mother-daughter shopping trip to Dillard's, where they were looking for a dress for Lexi's upcoming formal. Megan picked out a red dress that she wanted her daughter to try on — even though it totally wasn't her style — and after the two had a laugh and took a photo, Megan claimed, the sales associate told Lexi that "she needed to wear SPANX if she wanted to wear this dress." When Romper reached out to Dillard's for comment, corporate spokesperson Julie Bull responded in an email:
At Dillard's, our mission is to help people feel good about themselves by enhancing the natural beauty found in all of us. We train our sales associates with the goal of creating a completely positive experience with each visit. It is certainly never our intent to offend our customers. We have reached out to this customer and her daughter, and we appreciate the outreach of so many of our followers and customers to bring this issue to our attention.
Thankfully, Megan wholeheartedly disagreed with the sales associate, and the two left the store, but she expressed in her post how much she wished she could have told the woman how damaging it is to say things like that to young girls (or, let's be honest, to anyone). And as she so perfectly summed it up in the Facebook post, "if they feel good in a dress, that is all that should matter":
Dear sales lady at Dillard's Towne East Mall,
This is my teenage daughter who wanted to try on dresses for an upcoming formal. I found this dress and asked her to try it on. She told me this was not her style, but tried it on for me. I told her how grown up it made her look and she smiled, and told me this made her look too old but still, she let me take a picture. Right after that, you entered and told my daughter she needed to wear SPANX if she wanted to wear this dress. I told my daughter to go change. I told you that she was just fine without SPANX. You continued to argue with me. We left soon after. I wish I had told you how many girls suffer from poor self image and telling them they need something to make them perfect can be very damaging. Girls of all ages, shapes and sizes are perfect because that is how God made them. If they feel good in a dress, that is all that should matter. My daughter is tall, she swims, runs, dances and does yoga. She's fit. She's beautiful. She did not need you telling her that she is not perfect. I hope this is shared and gets back to you so that you should not say something like that to a girl ever again. You never know what negative or positive thoughts they are thinking about themselves.
Sincerely, Mother of a beautiful girl
According to Fox 8 News, Megan said the staff at Dillard's later contacted her directly, and that they were "very kind."
Megan has since posted a follow-up to her initial Facebook post, clarifying that her issue was not with the store, but with the employee's comment, and also that her daughter gave her full permission to post the photo and story on her behalf:
People have said that I should be ashamed for embarrassing my daughter. SHE IS NOT EMBARRASSED, SHE IS EMPOWERED!!! First, I ONLY posted this with permission from my daughter! It was her choice. PLEASE KEEP SHARING!! Second, please know I do not want this lady fired!
Based on Megan's posts, it seems like she definitely did the right thing by standing up for her daughter. Her message was symbolic for other young women who have been told by someone else that there was something wrong with the way they look. Despite what anyone may think, no one has the right to police anyone else's body, and there's no reason why Lexi, or any other girl (or human!) should have to feel bad about the way they look.
Image: Courtesy of Megan Harris