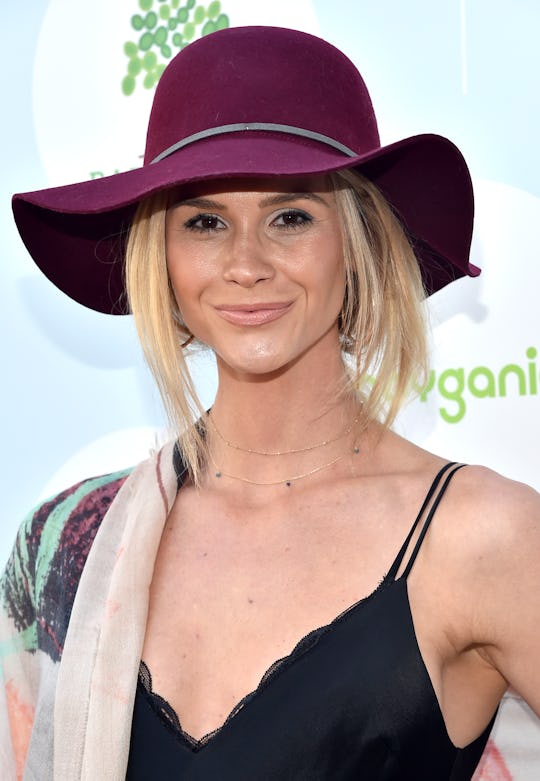 Alberto E. Rodriguez/Getty Images Entertainment/Getty Images
Parents Are Loving Meghan Edmonds' Video Of Her First Successful Tandem Feeding
Real Housewives of Orange County alum Meghan Edmonds has spent the last week adjusting to her new life as a mom to twin boys. Edmonds — who welcomed her sons on June 6 — is especially busy these days because she's also the mom to a 1-year-old girl named Aspen. Yep, Edmonds' summer has been a whirlwind of activity so far. The good news? Edmonds is a champ when it comes to parenting, and she just achieved her first major win as a mom of twins. That's right, parents of multiples — Meghan Edmonds just celebrated her first successful tandem feed. As any parent of multiples know, this is no easy feat. Bravo, Edmonds.
Luckily for Edmonds' fans, she often shares Instagram stories of her newborn boys, Hart and Hayes. From clips of Aspen cooing over her new brothers to videos of the boys chilling in their baby carriers, Edmonds has done a fantastic job chronicling her infants' first week of life. But just when you thought the content couldn't get any more intimate, Edmonds took to her Instagram Stories on Thursday to share Hayes and Hart's first tandem feeding. Tandem nursing is when a parent breastfeeds their twins at the same time, or when a parent feeds their toddler and infant simultaneously. Needless to say, it can be tough to nurse two kids at the same time, and it can take a bit of practice. Luckily, Edmonds kept on trucking until she got it right.
Following Edmonds' successful moment, she took to her Instagram Stories to express her excitement. "First tandem feed all by myself! I might not look very fantastic, but I sure as hell feel very fantastic," Edmonds told her Instagram followers, according to People. "Eeeee. This is a really, really big deal."
Big deal, indeed. There's nothing more wonderful than a parent hitting a milestone they worked hard to achieve. Every little bit of parenting success deserves to be celebrated and sung from the rooftops. Congrats, Edmonds.
But what's especially awesome about Edmonds' first successful tandem feed are the positive reactions she's receiving from parents.
"Just saw your stories about your first tandem feed on your own and HAD to tell you GREAT JOB MAMMA," one fan penned, according to Instagram. "THAT IS SO AMAZING!! That's the real mom life right there!"
"I'm so proud of you for not being ashamed or embarrassed to show a video of you breastfeeding," someone else said. "I want to get to that point and you're definitely an inspiration now. Congratulations on tandem feeding!!!!"
"I know you have your DMs on your stories turned off but I wanted to say GREAT JOB on the tandem feeding," another person chimed in. "It is sooo hard with one and I can't even imagine with two babies. Congrats!!!"
Seriously, you are such an amazing mama!!! I have so much respect for you! Watching you since you started on RHOC and impressed with how you've handled your pregnancies and motherhood. I'm currently breastfeeding my second baby, and mom life is hard, but you're doing such a great job at it. Truly an inspiration, God bless your family! Keep up the great work girl!! Your babies are beautiful and super lucky to have you as a mom!!
Aww. It's truly heartwarming to see how many people are inspired by Edmonds, and this is a perfect example of how social media can be a powerful tool for parents.
On that note, here's to many more parenting posts from Edmonds in the months and years to come. It's clear parents appreciate her candor, and many fans are happy to celebrate her parenting successes.