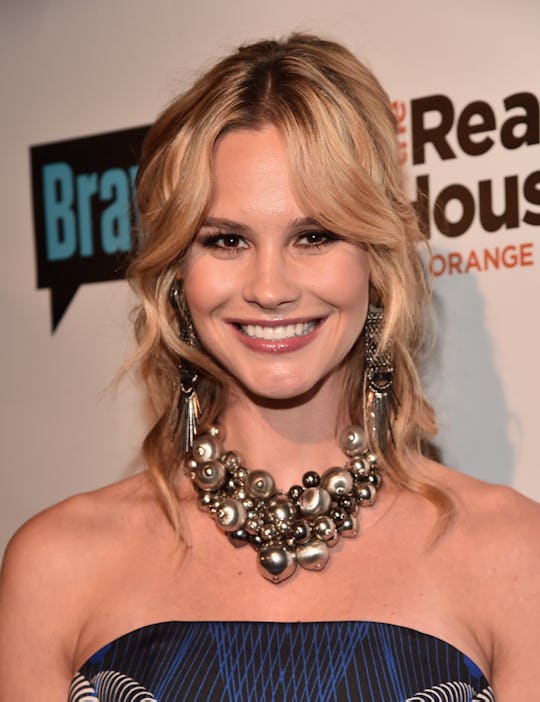 Alberto E. Rodriguez/Getty Images Entertainment/Getty Images
'Real Housewives' Star Meghan King Edmonds Has Finally Given Birth To Twin Boys
After announcing her pregnancy in Dec. 2017, former Real Housewives of Orange County star Meghan King Edmonds gave birth to twin boys Wednesday, according to E! News, and their birth was accompanied by the sweetest Instagram update by their dad, Jim Edmonds. The proud papa shared that his wife and their two new baby boys were "safe and healthy," and while the couple has yet to share a photo of their new arrivals, he did post an adorable photo that showed off his sons' newborn footprints on his forearm, along with the promise that "pictures will come soon."
The boys' arrival means that the couple will definitely have their hands full: in addition to their newborn twins, Meghan and Jim also share an 18-month-old daughter, Aspen, who was born in Nov. 2016. In other words? That now means they have three children under two, which honestly has to be at least a little bit daunting. But the mom-of-three — who also has four step-children from her husband's previous marriage — seemed to be taking it all in stride. One thing she did admit though was that being heavily pregnant with two babies at once wasn't exactly the most enjoyable experience: in May, Meghan told People that she was "getting miserable," and joked, "I feel like the babies are like, in my ears."  
As chaotic as it might seem to have three children so close in age, Meghan shared in a blog post in November that she and Jim actually knew only "a few months" after their daughter was born that they wanted to have another baby. Like they did with Aspen, the couple began IVF treatment in order to conceive, but Meghan said that even though they already had two frozen female embryos from their first round of fertility treatment, she and her husband — who already has four daughters — were really hoping to have a boy. On their second IVF attempt though, Meghan explained they ended up with three male embryos and one female embryo, which meant they had a pretty great shot at having a son together.
What they didn't realize at the time, however, was that they were actually about to end up with two boys instead of one. When Meghan shared her initial blog post about her second IVF journey, she was 10 weeks pregnant, and at the time she and Jim thought they were only having one baby. Just a few weeks later though, the couple shared in an Instagram post that they were actually having twins — and that both babies were boys. In the pic, Jim and Aspen could be seen holding a sign that read, "Edmonds twin boys 2018," while Meghan posed behind a second sign that said, "Our family is growing by four feet and two heartbeats."
Pregnancy discomfort aside though, Meghan's social media posts suggest that the former reality star was having a blast being pregnant again. The mom-to-be regularly shared updates about her growing bump on Instagram — and even took the opportunity to stage her own Beyoncé-inspired maternity photo.
Along the way, Meghan also gave her followers a glimpse of just how different a twin pregnancy actually is from a first-time singleton pregnancy, and it was pretty eye-opening. In March, she shared a side-by-side comparison of herself showing off a similar-sized bump from both of her pregnancies. Yet as hard as it may be to believe, only six months into her second pregnancy, her belly had already become roughly the same size as it was only two days out from delivering her daughter.
In May, Meghan shared a photo on Instagram celebrating the fact that she'd been able to make it to 35 weeks, which she said was the "average twin gestation" in the United States, and she even noted that she hoped to have a "drug-free/intervention-free" birth with her boys. And while she hasn't yet shared whether or not she was able to get her wish, Meghan was at least lucky enough to make it all the way to 37 weeks gestation before giving birth, which definitely helped up her chance for a healthy delivery.
On Tuesday, Meghan took to Instagram to share a quick video clip of herself at the hospital hooked up to a machine for "regular monitoring," and said that she "[wouldn't] be mad if [she] had to stay" and give birth. Though it did appear that she was ultimately sent home, the fact that the boys' birth announcement came only one day later suggests she likely wasn't there for very long.
It definitely seems like Meghan and Jim Edmonds' journey to twin parenthood was a pretty exciting one, and that, by the end of it, they were more than ready to welcome their newest family members. And even though it might be a pretty big adjustment to go from having one child to three children overnight, they sound totally down for the challenge.