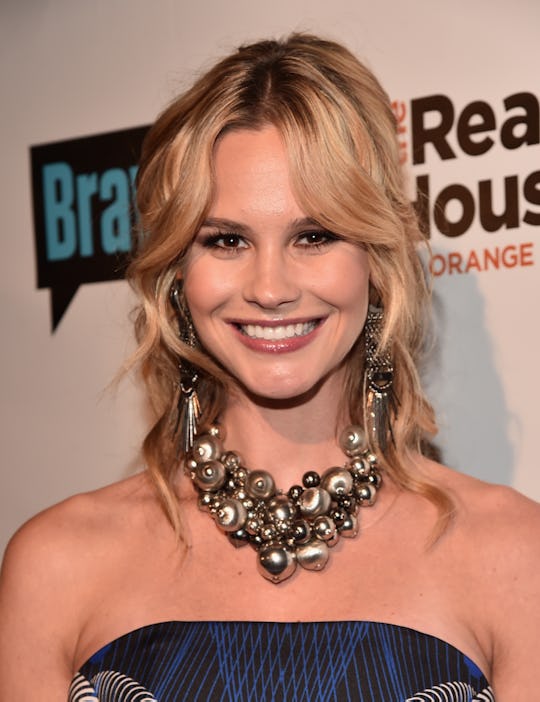 Alberto E. Rodriguez/Getty Images Entertainment/Getty Images
Meghan King Edmonds Is Pregnant & The 'Real Housewives' Family Is Expanding
She's long been a step-mom, but now Meghan King Edmonds is pregnant with her first child. The Real Housewives of Orange County star announced on Monday that she's expecting a baby girl with her husband Jim, who has four children of his own already. Edmonds also revealed that she and Jim went through IVF since he had had a vasectomy but froze his sperm. She's already four months along, but said that it's already been a very long road.
Edmonds told People, "It was just such a long process with the IVF, step by step by step with so much information." And the injections. "I was swollen and in pain and it hurt to even sit straight up. It was awful. And then the recovery from that was hard," she said of the process.
But now it's time for the fun part, Edmonds said. "I'm so over the moon, I couldn't believe it the first time I peed on a stick and I saw that little line kind of get a little darker," she said of finding out that she was pregnant. She's even enjoying the changes in her body already. " I finally have a bum! For the first time in my life I can twerk," she told People.
Being able to twerk is always a good thing. Even better is that the upcoming of Real Housewives of Orange County, which premieres Monday night, will feature her 5-month long IVF journey. "You know, IVF is really, really difficult emotionally, physically, and I like to think of IVF as not having an end, but really just having a next step," Edmonds told Entertainment Tonight about filming the process.
"After going through this fertility journey, I have realized that there are so many other women out there who are going through fertility issues on their own, and so it's been great to kind of talk about it and have that dialogue, because it's not an easy journey," she said. For sure, fans watching the 31-year old go through it over the new season is a great way to get people talking more about fertility issues and what women and their partners have to go through when they want to start a family.
The 31-year old reality star and her husband already have a good attitude. In an Instagram post announcing the pregnancy, she wrote that they were psyched to welcome their daughter into their "perfectly imperfect" blended family. Yas. We're all better off with more celebs getting real about how hard (and amazing) family life of any kind can be. Cheers to perfectly imperfect families all over the place — especially the Edmonds.