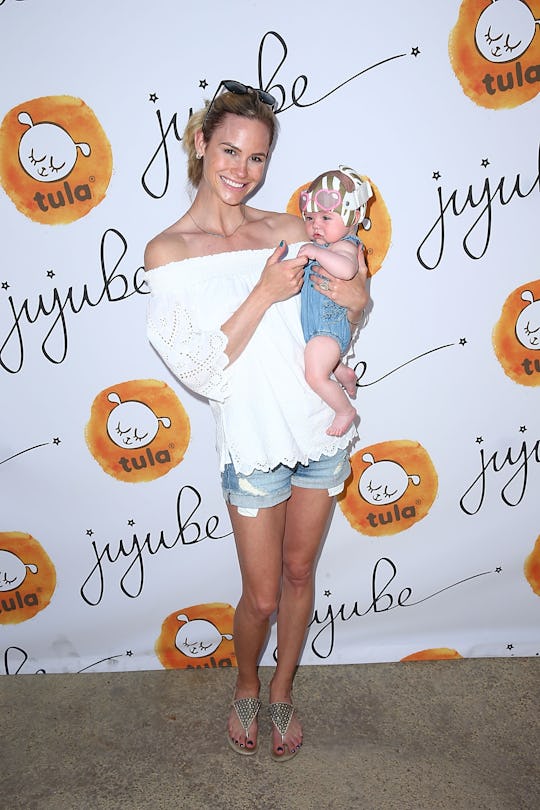 Joe Scarnici/Getty Images Entertainment/Getty Images
Meghan King-Edmonds Is Taking A Kid-Free Vacation For This Important Reason
It's definitely no secret that parenthood can have a huge impact on your relationship with your partner. New parenthood, after all, is completely exhausting, and honestly? Raising kids can be so intensely demanding in general that even the *idea* of romance can start to feel entirely frivolous. It seems like that would be especially true though if you happen to have three kids under the age of two, which is precisely why Meghan King Edmonds is taking a kid-free vacation to Mexico with her husband, Jim Edmonds, only four months after welcoming their twin boys, Hayes and Hart.
The former Real Housewives of Orange County star revealed in a blog post Thursday that she and Jim opted — somewhat reluctantly — to take their first adults-only vacation since they first became parents to their daughter, Aspen, who will turn 2 years old in November. Meghan explained that when the twins were about 6 weeks old, she and Jim planned to join their friends in Mexico to celebrate their vow renewal, and though she admitted that they "almost cancelled several times," it also became pretty evident that the trip could give her and her husband a very-much-needed opportunity to reconnect with one another.
Although it definitely isn't easy to publicly admit that your marriage may have been suffering because of parenthood, Meghan explained that getting away from some proper, baby-free alone time was probably the best thing she and Jim could possibly do for their marriage. Meghan wrote,
Our marriage needs it. We've had three babies in under two years. We're building a house, we've sold and moved homes numerous times, we've quit jobs and started new ones. We've become complacent in our lives and have taken each other for granted. We are constant fixtures in our marriage that are often ignored and we need shining and buffing. We need US back… and the sad part is that we never even realized 'we' were missing.
In other words? While taking a romantic vacay with your spouse and leaving your tiny infants behind might seem indulgent, the reality is that it's actually more like an investment into your relationship more than anything else. After all, if a brief stint away could help you recharge — which would also make you better parents — then it definitely seems worth the downsides.
Although Meghan wrote that she was feeling "anxious" about leaving, and that she already missed her little ones, she also said she couldn't wait to spend time with her husband without "worrying about when the babies need to eat next or who has gas or why hasn't one pooped" (sound familiar?).
Of course, for many couples, taking a Mexican vacation is not even sort of an option when they've got young children, but Meghan wrote that it's still possible to find an alternative. Some of her suggestions? "A staycation at a local hotel," or even just at home without any kids around. And if that's not going to happen, the mom-of-three at recommended at least planning "a very special date (like a picnic in the park) without cell phones," which, honestly, is a pretty great idea.
Earlier this year, Meghan opened up about the challenges of motherhood, according to E! News, and said that, between her three children, and four step-children from Jim's previous marriage, she's definitely done with babymaking. And while she has chosen to step back from reality TV for the time being, Meghan did also admit that being a mom in the spotlight can be a real challenge. She said,
I think motherhood is just one big guilt trip to be honest. At the same time, we're all just trying to do our best and I'm gonna show what that looks like. When I was on the Real Housewives, I tried to show what I could control at least, just the authentic version of myself and I clearly have more control over that with my own social media.
Though it likely wasn't easy for Meghan and Jim to leave their three children behind, the couple shared some footage on Instagram after they arrived at their destination, and it seems like they're having a great time. And honestly, as unrealistic as it can often seem to consider jetting away for some kid-free time, making time for your relationship amid the madness of parenthood really is valuable advice. And it's awesome that she's chosen to take the trip — no mom-guilt required.