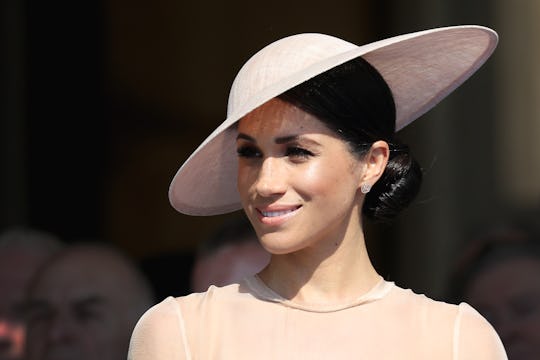 Chris Jackson/Getty Images Entertainment/Getty Images
Meghan Markle & Amal Clooney's Friendship Is Definitely #Goals
Life has definitely been a bit of a whirlwind for Meghan Markle. Moving countries and marrying into a royal family isn't an every day task, but it seems that the new Duchess of Sussex has found a friend to help her settle into London life. Even if you or your friends don't plan on marrying a prince anytime soon, Meghan Markle and Amal Clooney's friendship is still a clear example of what #goals looks like.
Although some people might know of Amal Clooney from her relationship with her husband, George Clooney, she's definitely a formidable force on her own. Born in Beirut, Lebanon, Amal's family left when she was 2 years old during the Lebanese Civil War, according to The Telegraph, and the family ended up in Gerrads Cross, Buckinghamshire.
As noted by Business Insider, Amal is one of the most powerful and respected international human rights lawyers in the world. She has studied at both Oxford and the New York University School of Law, according to The Telegraph. And in 2015, she was chosen as Barbara's Walter's Most Fascinating Person of the Year, as ABC News reported.
It's clear that long before her marriage to George, Amal was making headlines and pushing to be amongst the best in her field. In that respect, there are some obvious similarities between her and Markle, who previously starred in Suits. And thanks to Amal's upbringing in England, Markle can have her help getting used to the London scene! According to People, the two previously met through a mutual friend, but they've gotten much closer after Markle moved to the United Kingdom.
For anyone who can't get enough of this duo, here are a couple moments where the two really demonstrated their new friendship.
For Starters, Amal & George Clooney Landed A Wedding Invite
Among the public, some of whom camped out for days to secure just a glimpse of Prince Harry and Markle, there were many celebrities present at the royal wedding. They just had the benefit of an invite.
Some might be tempted to credit the Clooneys' appearance at the wedding to George's fame, but the more you dig, the more likely it seems that Amal's connection with Markle really sealed their invitation.
Amal captured people's attention with her stunning yellow dress and accessories. And that's not hyperbole — according to Harper's Bazaar, Amal had the most searched royal wedding guest outfit. She stepped out in a Stella McCartney dress that looked amazing, especially whenever it captured the sun. Harper's Bazaar reported that the fashion brand's traffic increased 3,000 percent in the 24 hours after Amal stepped out.
Of course, Stella McCartney's traffic increase can be credited to one other thing, but that only helps to prove Amal and Markle's friendship.
They Have The Same Taste In Clothing Designers
It's definitely a thing that defines a potential friendship. Someone pops out in a pair of really cute boots or an interesting top and you have to ask where they got it from. If that question is marked by a snort or no response at all, it's sometimes a sign that the friendship isn't meant to be. After all, you can't get too close to someone who hoards all the good shopping to themselves.
Nobody may know how the conversation went down between Amal and Markle, but nothing changes the fact that Amal's brilliant yellow dress? It shared the same designer as Markle's reception dress from later that evening, as noted by People.
Given that this was Markle's wedding, it's fair to assume that guests wouldn't share the same designer as her unless she was cool with it. There's no way anyone could have stolen Markle's spotlight to start, but it still says a lot that they shared designers on her wedding day.
They Share Hair Dressers, Too
Celebrity stylist Miguel Perez has been working with Markle for her recent public appearances, according to Page Six, and even styled the duchess' hair for her wedding. But before he started styling Markle's hair, Perez worked with Amal, according to Page Six. In fact, it's Amal that helped introduce Markle to her stylist.
In an April 2018 interview with The Mail, Perez said, "Yes, I do Meghan's hair. I do Amal's, and Meghan is friends with her. I also do George's, I do the whole family. Amal put Meghan and me together when she moved here. I do her color, her cut, and her styling."
Given Markle's past experiences with philanthropy, and Amal's work as a human rights lawyer, it'll be interesting to see if this duo cooks up any events or programming together. It's not too far fetched. An inside source reportedly told People, "Meghan and Amal have known each other for a while [and share] many interests."
Dealing with a lot of life changes is difficult, so it's great to see that Markle has a new friend familiar with the country that's willing to help her out. Like I said, #goals.