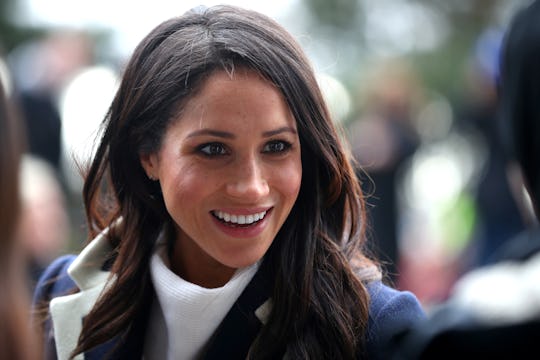 WPA Pool/Getty Images Entertainment/Getty Images
Meghan Markle "Broke" Royal Protocol On International Women's Day For The Sweetest Reason
When Prince Harry and Meghan Markle announced their engagement back in November, fans of the couple rejoiced. Because of course, that meant another royal wedding was on the horizon! (Oh, and Markle is pretty awesome, too.) The last big-time nuptials involving a member of the royal family was in 2011, when Prince William and Kate Middleton exchanged vows. And soon, it will be his little brother's turn to walk down the aisle — with an American commoner, to boot. But that's not the only detail that makes Markle stand out as a soon-to-be royal. In the short time that Prince Harry and Markle have been engaged, they've already made it clear that they won't be following every royal tradition in the book. In fact, Meghan Markle "broke" royal protocol on International Women's Day for the sweetest reason.
As Cosmopolitan reported, Markle and Prince Harry were in Birmingham, England, on Thursday, which happens to be International Women's Day. During their visit, the betrothed couple was visiting with community members, when Harry met a 10-year-old girl named Sophia Richards. After finding out that Sophia has aspirations of becoming an actress one day, the prince introduced her to his fiancée. Markle — a former actress, herself — who simply couldn't resist embracing the young girl in a hug, along with an encouraging message.
Curious about what bride-to-be said on International Women's Day? Prepare to go, "awwww," because it's basically the sweetest thing. "Meghan told me that I can achieve whatever I want to achieve. And Meghan said she would like to see me on TV when I become an actress," Sophia told People. "It was a dream come true. I will never forget this day."
You might be thinking, "A future royal hugging a cute little girl — what's the big deal?" Well, technically, it breaks royal protocol, according to Town & Country. See, royals are typically expected to greet people with a handshake. Still, this isn't a hard and fast rule. After all, other royals have been spotted embracing young children — and athletes, too.
And this certainly isn't the first time Markle has broken with royal protocol. TIME reported that the former Suits actress got a little political last week — something that royals are encouraged to avoid, Town & Country pointed out. During the first annual forum for the Royal Foundation, Markle spoke about her support for the #Metoo and Time's Up movements. "Women don't need to find a voice," she said, according to TIME. "They have a voice. They need to feel empowered to use it, and people need to be encouraged to listen." Markle continued:
We're seeing so many campaigns — #MeToo, and Time's Up. There is no better time than to really continue to shine a light on women feeling empowered and people really helping to support them, men included in that. It makes such a tremendous difference.
As E! News reported, Markle may break tradition in another way on her wedding day. According to a source, she hopes to speak at the reception that will be held after her wedding ceremony. "The feeling is if Meghan's father doesn't speak for her, she wants to have the chance to thank her husband and everyone who has supported them," the source told The Sunday Times. "Harry thinks it's a great idea."
Another break from tradition? Prince Harry and Markle's wedding date will be on Saturday, May 19, 2018 — unlike Princess Diana and Prince Charles, and Prince William and Kate Middleton, who married on weekdays, reported E! News. Another small detail that bulks royal tradition is the reported flavor of their wedding cake. Instead of the typical fruitcake that's served at royal weddings, Prince Harry and Markle are opting for banana-flavored cake, according to the news outlet.
And as Town & Country reported, the "breaking" of royal protocols doesn't stop there. From the PDA between the royal lovebirds, to the fact that she has spoken to the press about her relationship, to attending Christmas with the royal family before marriage, to her non-traditional fashion and hairstyle choices, it seems as if Markle is switching things up a bit. (And in my opinion, it's for the better.)
The way I see it, many of the royal protocols seem a bit out of date anyway. So if Meghan Markle is going bend the rules, standing up for women's rights, having the flavor of wedding cake she wants, and totally making a little girl's life on International Women's Day are all kick-*ss ways of doing so. I can't wait to see what Markle does once she's officially a royal!
Check out Romper's new video series, Bearing The Motherload, where disagreeing parents from different sides of an issue sit down with a mediator and talk about how to support (and not judge) each other's parenting perspectives. New episodes air Mondays on Facebook.