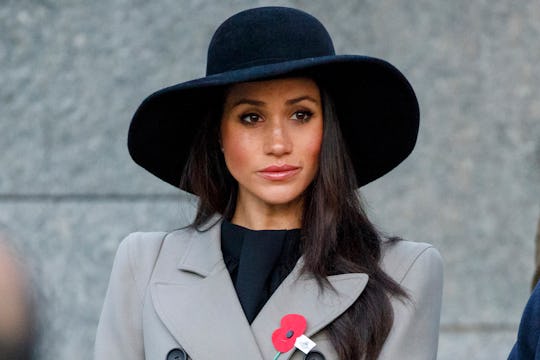 WPA Pool/Getty Images Entertainment/Getty Images
Meghan Markle Confirms Her Dad Won't Be Attending The Wedding In A Sad Statement
Meghan Markle will marry Prince Harry on Saturday, and the world has been wondering whether her father will be there to walk her down the aisle. After some conflicting news, Meghan has confirmed that her dad won't be attending the wedding after all.
On Monday, TMZ reported that Meghan's dad, Thomas Markle, would not be attending the royal wedding. He'd reportedly worked with the paparazzi on a series of photographs in hopes of generating more positive press coverage of himself prior to the royal wedding, according to Express. He had allegedly arranged the photo shoot to change his public image — an idea that Meghan's half-sister, Samantha Grant, claimed to be her own, according to Express. She said she had suggested their father pose for "positive" photographs "for the benefit of the royal family." So, on Monday, Thomas told TMZ that he had decided not to attend the wedding in order to avoid embarrassing Meghan and the royal family, according to People.
But, by Tuesday, Meghan's dad said he may be walking her down the aisle after all, TMZ reported. Though he'd reportedly suffered a heart attack and was in the hospital with chest pains, so his attendance would be contingent upon his health, The Telegraph reported.
Then, Thomas told media on Wednesday that he will undergo heart surgery and cannot fly to London, according to Good Housekeeping. Meghan released an official statement via the Kensington Palace on Thursday morning letting the world know that, sadly, her dad will not be in attendance. She also shared that she has always cared for him and wishes that he gets the space he needs to focus on his health, according to Harper's Baazar.
Grant said the media had been bombarding her father and she was worried about his health, too. She reportedly told Good Morning Britain that her father was "quite depressed over the unbelievable series of events involving the media," according to CNN. And she kept reiterating that she was very concerned for him. That said, she did not want him to miss out on attending the royal wedding and or be unable to walk her down the aisle.
Twitter users mostly agreed, with many expressing their concerns for Thomas, as well.
Meanwhile, others are sharing their unsolicited two cents about Meghan's relationship with her father. "I always cared for my father, come on Meghan where's the word love!" one asked. Another stuck up for Meghan arguing that "not everyone has love for everyone" and "weddings are already stressful enough" so to "cut her some slack."
The truth is that no one knows Meghan's relationship with her father except for Meghan and her father. And, regardless of their relationship, the situation is just unfortunate, because she clearly did want him there. Right now, all Meghan needs to focus on is her big day, and all her father needs to focus on is his health — and I imagine that's not easy when the whole world is watching.
Meghan's mom, Doria Ragland, could possibly take over to walk her down the aisle, according to Good Housekeeping. Reportedly, the two are close, as Meghan had lived with her mother after her parents' divorce, and Ragland is already scheduled to ride in the car with the bride to St. George's Chapel on Saturday morning. Queen Victoria did the same for her daughter when Princess Beatrice married Prince Henry of Battenberg in 1885, Good Housekeeping reported.
And because brother-in-law Prince Philip escorted Princess Margaret down the aisle at her 1960 wedding after her father, King George VI, passed away, there's a chance that Prince William could do the same for Meghan, too, according to Good Housekeeping. Likewise, Prince Charles, the father of the groom, has no official duty during the ceremony, so he's up for grabs. Or Meghan may just walk her independent self down the aisle.
The answer is to be determined but hopefully neither she nor her father are worrying about it as much as the rest of the world, because they certainly don't need that added stress.