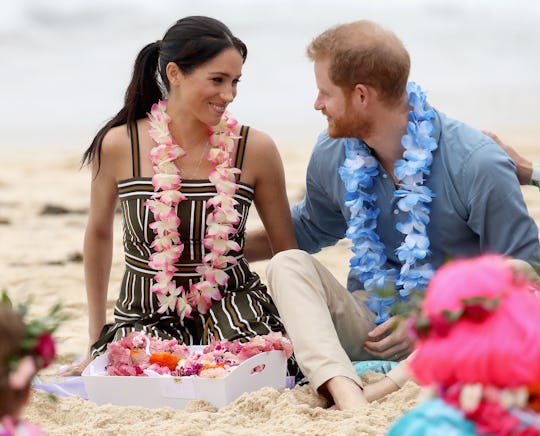 Chris Jackson/Getty Images Entertainment/Getty Images
Meghan Markle Cradled Her Growing Bump During A Royal Appearance & It's Adorable
When Meghan Markle and husband, the United Kingdom's Prince Harry, announced earlier this week that they were expecting their first child together, fans of the couple were dying to get a glance at her pregnancy bump. And just four days after the announcement was made, she delivered. During an official appearance on Friday, Meghan Markle cradled her growing bump at the beach, finally letting fans in on her pregnancy.
The Duke and Duchess of Sussex made a stop in Sydney, Australia on Friday to visit Bondi Beach, according to People. It was there where the couple walked barefoot, wore leis, and mingled with other people on the beach. This was a far cry from their normal prim and proper look that they sport during official royal appearances in Prince Harry's home country of the United Kingdom. Needless to say, their bare feet isn't something that would fly in front of Queen Elizabeth II (Prince Harry's grandmother), according to Express. But the couple definitely looked at home on the beach.
Markle must have been comfortable during this appearance, because she cradled her bump at one point during her time on the beach with Prince Harry. The moment, captured on camera, is seriously adorable. And Markle's pregnancy glow is undeniable. She is loving her pregnancy.
You can tell by the way that Markle cradles her bump in the photos that she is just as excited for her pregnancy as everyone else is (and they're like, really excited). But the details about her pregnancy are limited as of now.
Their pregnancy announcement confirmed that their baby will be here in Spring 2019, and it's likely that Markle is currently out of her first trimester, according to The Cut. Since there are two more trimesters to get through and plenty more weeks of her pregnancy left, there will be many moments in the future where Markle will continue to cradle her bump in public.
This stop in Sydney was just one of the many that Markle and Prince Harry are making on their royal tour to Australia, New Zealand, Fiji, and Tonga, according to Harper's Bazaar. During their two week tour, the couple is expected to make 76 engagements, partaking in activities that focus on "youth leadership, environmental, and conservation efforts" — which sounds like one very busy schedule for a pregnant woman.
Considering how happy and composed Markle looked during this appearance on Friday, it doesn't seem like this busy agenda will phase her.
Although Markle cradling her bump might have been one of the more memorable parts about this appearance on Friday, the couple also displayed some seriously noteworthy PDA, according to Cosmopolitan. At one point during their time spent with people on the beach, Prince Harry reached over and placed his hand on her thigh. This sweet gesture is seen as a bit of a no-no when it comes to royal appearances, according to PopSugar. Although there isn't a formal rule about royal couples showing PDA, according to PopSugar, royals tend to keep things professional during their royal appearances (which is why they don't kiss in public).
But, as previously stated, Markle and Prince Harry must have felt super comfortable on the beach to show a bit of affection towards each other and Markle's bump. And there's a reason for this — before she became a royal (and had to delete her Instagram account) Markle's account was full of pictures of her on the beach in different exotic locale, according to People. So, she must have felt right at home.
Now that fans have seen Markle cradle her bump, they're going to want to see more photos. Luckily, there is another week and a few days left in this royal tour — which means plenty of opportunities to catch a glimpse of it.