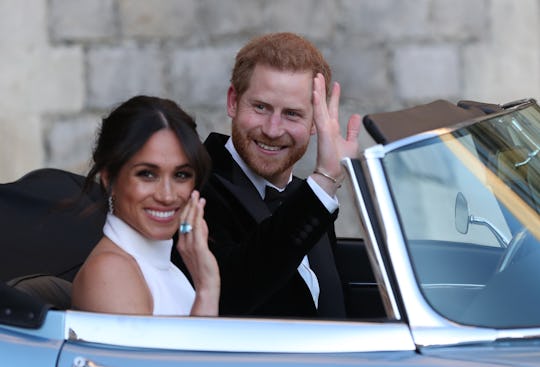 WPA Pool/Getty Images Entertainment/Getty Images
Meghan Markle Gave Her Bridesmaids & Flower Girls The Sweetest Gift Ever
When it came to choosing their bridal party, Prince Harry and Meghan Markle's stuck to their inner circle. The 10 children the couple picked to walk down the aisle at St. George's Chapel were the sons and daughters of the couple's close friends, and in addition to being a sweet nod to those special friendships, it also gave the kids themselves an experience they'll likely never forget. But the memory alone wasn't all they received: Meghan Markle gave her bridesmaids the sweetest gift as a token of her gratitude, and it was such a thoughtful gesture.
The couple, now the Duke and Duchess of Sussex, announced ahead of the wedding that they had chosen six bridesmaids and four page boys for their big day, including Prince George and Princess Charlotte, and the children of two of Markle's close friends, Jessica Mulroney and Benita Litt. And while the details of their outfits were kept a secret, the palace shared in a statement Saturday that the bridesmaids' dresses were designed by Clare Waight Keller for Givenchy — the same designer behind Markle's beautiful wedding dress — and that they wore white leather Aquazurra shoes (which, according to Town & Country, appear to be custom designed). Making the outfit even more special though? The palace revealed that Markle had each pair of the bridesmaids' shoes monogrammed with their initials, along with the wedding date.
The young bridesmaids weren't the only one to receive thoughtful gifts from Markle, though. Although she didn't actually have any adult bridesmaids, Markle made a point to honor her closest friends (including Mulroney, Litt, and her new sister-in-law, Catherine, the Duchess of Cambridge) by giving them each a solid gold disc bracelet, according to People, custom designed in yellow gold by jeweler Lisette Polny of Zofia Day.
But that wasn't all: Polny shared that Markle also commissioned two bespoke necklaces as a sweet surprise for her goddaughters and bridesmaids Rylan and Remi Litt, while Kensington Palace revealed that Markle had similarly commissioned British milliner Stephen Jones to create hats as gifts for a number of her friends (Jones was the one who created the mint green beret worn by, her mother, Doria Ragland).
While Markle definitely went out of her way to make her nearest and dearest feel loved on her wedding day, the couple also made sure their other guests were taken care of, too. Actress Troian Bellisario – who attended the wedding with her husband, and Markle's former Suits co-star, Patrick J. Adams — shared in an Instagram story that the royal couple gave slippers to guests at their afternoon wedding reception, according to The Sun, so that they'd be more comfortable after walking around in heels all day.
The newlyweds also didn't forget about the 2,640 people who were invited to watch the wedding from the Windsor Castle grounds: each guest was given a gift bag, according to BBC News. And while that seems like something most people would want to keep, it's now possible for anyone who watched the wedding from home to get their hands on one — if they're OK with the price tag, that is. BBC News has reported that a number of the royal gift bags have ended up on eBay, with some going for as much as $1,300.
Wondering what's inside? Guests were given an order of service booklet for the ceremony, a tube of shortbread, a bottle of water, a chocolate coin, a fridge magnet, a badge, and a 20 percent off coupon for the Windsor Castle gift shop.
That might be a world away from monogrammed shoes or a gold bracelet, but hey, it's still a pretty cool keepsake. And while it's probably pretty safe to assume that Markle's close friends were already thrilled to have the chance to celebrate alongside them at St. George's Hall and Frogmore House, Markle's gifts for her friends and bridesmaids were definitely a special touch that surely meant a lot to them.