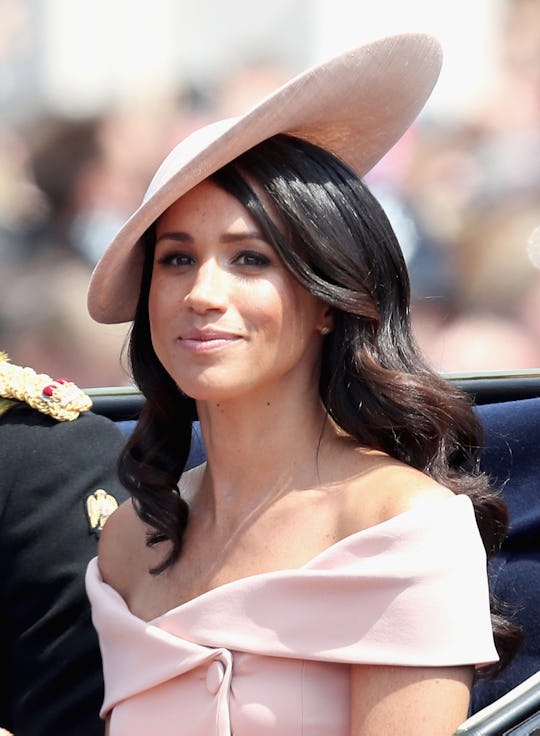 Chris Jackson/Getty Images News/Getty Images
Meghan Markle Has Officially Started Her First "Job" As A Royal
On May 19, the world looked on as Prince Harry and Meghan Markle exchanged vows in St. George's Chapel at Windsor Castle. The lovebirds sealed the deal nearly two years after the blind date that brought them together — and unsurprisingly, fans continue to be obsessed with the former American actress as she settles into her royal duties. The Duke and Duchess of Sussex seem to be happier than ever following their nuptials and subsequent honeymoon. But now, it's down to business: Meghan Markle has officially started her first job as a royal, and she's ready to hit the ground running.
Just three days after the Duke and Duchess of Sussex said, "I do," they made their first appearance together as a married couple on May 22, The Telegraph reported. Prince Harry and Markle attended a garden party at Buckingham Palace to recognize Princes Charles' charity work — and as an early 70th birthday celebration. Markle, now an official member of the royal family, wore a decidedly more "royal" outfit consisting of a cream dress with long sleeves and nude tights, with a matching cream hat, the publication reported.
After this event, the newlyweds set off for their two-week honeymoon — returning in time for the June 7 Trooping of the Colour, People reported.
Now that the royal wedding and honeymoon are behind them, it looks like it's back to the grind for the Duke and Duchess of Sussex. And for Markle, that means officially becoming the fourth patron of the Royal Foundation, People reported. This organization initially came about to look after the charitable interests of Prince William and Prince Harry. However, when William and Kate Middleton married in 2011, she was added to the group. Naturally, Meghan Markle was poised to do the same leading up to her May 2018 wedding, and now it's official. The updated listing at Companies House (the official U.K. register), reveals the organization has officially been renamed: The Royal Foundation of the Duke and Duchess of Cambridge and the Duke and Duchess of Sussex. Which is certainly a mouthful, if you ask me. (And I don't even want to know what that acronym would be. RFDDCDDS?)
Back in February — although she wasn't yet a patron at that point — Markle took part in her first Royal Foundation forum, alongside Prince Harry, Prince William, and Kate Middleton, TIME reported. During the Q&A session, Markle spoke about her commitment to fighting for women's empowerment. And guys, she totally rocked it. "Women don't need to find a voice," Markle said, according to TIME. "They have a voice. They need to feel empowered to use it, and people need to be encouraged to listen."
Markle continued:
We're seeing so many campaigns — #MeToo, and Time's Up. There is no better time than to really continue to shine a light on women feeling empowered and people really helping to support them, men included in that. It makes such a tremendous difference.
Later on, Markle eluded to the fact that she had been doing behind-the-scenes work for the foundation. It wouldn't be until after her May wedding, however, that she would be all-in. "I guess we wait a couple months and then we can hit the ground running," she said, TIME reported.
Honestly, I can't wait to hear more from Markle about her work with the Royal Foundation. She seems genuinely invested in her causes, and I think her perspective will prove invaluable as she has a chance to make her mark. And if her excitement to "hit the ground running" is as strong as it was in February, I have little doubt in her ability to follow through.