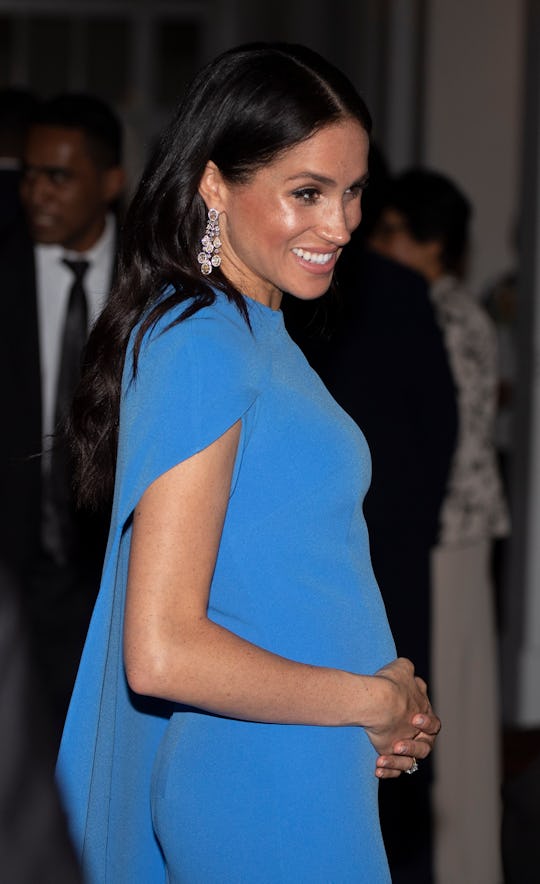 Pool/Getty Images Entertainment/Getty Images
Meghan Markle & Her Growing Bump Look Absolutely Stunning In This Blue Gown (With A Cape!)
If you can't get enough of Prince Harry and Meghan Markle, their continuing royal tour means you'll keep seeing a lot more of them in the media. The couple always looks good together, but ever since news broke about the Duchess of Sussex's pregnancy, fans have been keeping their eyes peeled for any updates on their baby-to-be. And at their most recent tour stop, Meghan Markle and her growing baby bump were on full display, and, of course, she looked absolutely stunning.
The royal couple only very recently announced their pregnancy. On Monday, Oct. 15, Kensington Palace released a statement on Twitter, saying: "Their Royal Highnesses The Duke and Duchess of Sussex are very pleased to announce that The Duchess of Sussex is expecting a baby in the Spring of 2019."
And ever since, fans have been ecstatic for the couple — who could blame them? This will be Prince Harry and Markle's first child together, which is a pretty big deal. And these new pictures are sure to feed back into the public's excitement.
The royal couple arrived together in Fiji for a reception and dinner hosted by the nation's president, as reported by PopSugar. In photos, Markle looks like absolute royalty in a bright blue gown. Beside her, Prince Harry looks like a proud dad-to-be, in a suit decorated with some of his military medals.
The slight smile on the duchess' face as she cradles her pregnancy bump is everything!
Pool/Getty Images Entertainment/Getty Images
Pool/Getty Images Entertainment/Getty Images
Pool/Getty Images Entertainment/Getty Images
Pool/Getty Images Entertainment/Getty Images
It's always been clear that Prince Harry and Markle were excited to start a family together. Even during their 2017 post-engagement interview, when asked about starting a family, Prince Harry said, according to Us Weekly, "Hopefully we'll start a family in the near future."
And then, back in a 2012 ABC News interview, Prince Harry shared that he's wanted children since he was young, but he was "waiting to find the right person". During that same interview, Prince Harry also spoke about his late mother, Princess Diana:
I hope she's looking down, you know, with tears in her eyes, being incredibly proud of what we've established, I suppose. I'm sure she's longing for me to have kids so she can be a grandmother again. I hope that everything we do privately and officially, that it makes her proud.
Knowing that Markle is expecting now, that 2012 interview is especially sweet, as it's easy to imagine Princess Diana's excitement for her youngest son.
If you only go off the couple's pregnancy announcement, Markle's baby bump might seem like it appeared really quickly. However, if Markle is expected to give birth in the spring of 2019, that means the Duchess has passed her first trimester. In other words, she's at least about three or four months along, as Express reported. And that makes perfect sense, considering most pregnancy announcements come after the 12-week mark. At that point, the risk of miscarriage drops dramatically, making it safer to spread the news, as noted by Baby Center.
With all that said, Markle can be expected to give birth between March or June 2019, as reported by Express, since those are the months that make up spring. There are a lot of other royal birthdays during those months, such as Princess Charlotte's on May 2, Prince Louis on April 23, and the Queen's on April 21, as noted by Express.
It would be pretty cool if the couple's baby ended up sharing a birthday with great-grandma, aka the Queen! But, it's still way too early to place bets on the upcoming royal baby's birthdate.
For now, though, fans are just excited to see the couple look so happy together. And while Markle will be scaling back her participation in royal events as her pregnancy progresses, as reported by Yahoo!, hopefully there will be more and more photos of the couple as they away their royal bundle of joy.