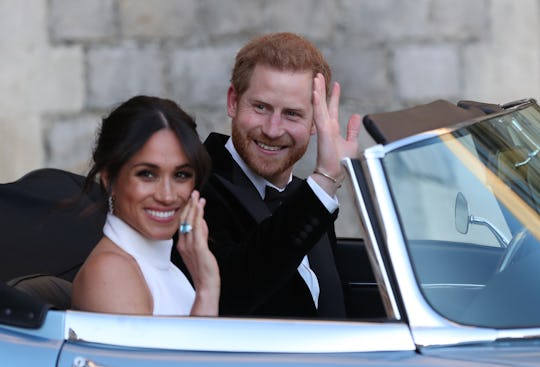 WPA Pool/Getty Images Entertainment/Getty Images
Meghan Markle Is Reportedly Getting 6 Months Of Duchess Training & Here's What That Involves
It turns out that marrying a prince and being named a duchess isn't enough to perform royal duties. That's why the Duchess of Sussex, Meghan Markle, reportedly has to take six months of duchess lessons with one of the palace's foremost authorities. And it looks like she's learning the royal ins and outs from someone pretty close to the queen.
In fact, Markle's reported instructor is Samantha Cohen, who has served as the queen's assistant private secretary, but planned to leave her position this summer, according to The Times. She has reportedly agreed to stay on, but will move to the position of interim private secretary to Prince Harry and Markle, the publication reported. Part of her duties will be helping Markle settle into her new role, which will include touring the country and meeting charities, according to The Times. A source told the publication that "it will be six months of listening."
No doubt this training involves a lot more than crossing your ankles and choosing the right fork. As a duchess, Markle will be expected to perform royal duties in support of the queen through engagements at home and overseas, according to her official page on the royal family's website.
And based on the activities of Kate Middleton, the Duchess of Cambridge, it can be assumed that, on a practical level, that involves a lot of time appearing at events for charities and visiting other countries as a representative of the queen. According to ELLE, a duchess will often serve as a patron of charities. Since Middleton often appears at events, like one for the Victoria and Albert Museum, where she is a patron, Markle will probably do similar work.
Markle may find herself involved with charities her husband supports, like the Invictus Games — which supports wounded or injured veterans through sports competition — but she already has her own track record of charitable work. According to the Duchess of Sussex's bio on the royal family's website, she spent time serving in soup kitchens in her early adulthood, even finding one to work at in Canada while she filmed Suits. As noted in her royal bio, she was asked to serve as a counselor to One Young World, which educates young leaders on global issues. She also serves as an UN advocate for women to encourage their participation in the political process around the world, the royal website noted, also mentioning she's a global ambassador for child sponsorship organization World Vision.
The duchess will also need to learn how to manage the daily schedule and work of Prince Harry, according to ELLE. She is expected to "help her husband […] fulfill his royal duties, coordinate household tasks with their staff, and oversee the upbringing of their children," according to ELLE.
And when might children start making an appearance? It's hard to know and is a decision that is only their business, of course, but both Prince Harry and Markle have been vocal about their desires to have a family. During their engagement interview they were if they had plans to start a family. "Not currently, no," answered Prince Harry, as Markle laughed, "Of course one step at a time and hopefully we'll start a family in the near future."
Katie Nicholl, an expert on the royals who wrote the book Harry: Life, Loss, and Love, told Entertainment Tonight that her sources "are saying that Prince Harry, particularly, is very keen to start a family, pretty soon after the royal wedding. He's made no secret about wanting children."
Markle dropped her own hint about starting a family quickly during a visit to Ireland, according to People. While looking at some hypoallergenic baby products the duchess reportedly said, according to People, "I'm sure at some point we'll need the whole thing."
But first, duchess lessons! Markle reportedly met with Cohen when she and Prince Harry were engaged, to learn about the structure of the monarchy and the Commonwealth, according to The Times. Now Cohen will help Markle find her place amidst the royals. "She is seeking out advice from a range of people. She is going to proceed with humility," a source told The Times. The source also noted that the rigorous schedule shouldn't phase her. "She has worked every day of her life. She is used to a demanding schedule."
Both England and the United States were excited to see this royal union and will be watching closely as Markle settles in to her new role. Hopefully her background as an actress has prepared her for all of the attention and she'll greet this new opportunity with joy.