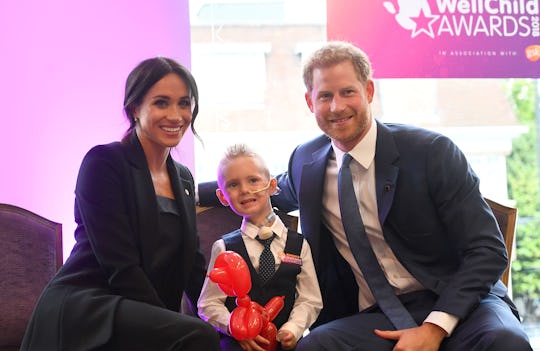 WPA Pool/Getty Images Entertainment/Getty Images
Meghan Markle & Prince Harry Attended A Truly Lovely Event Honoring Kids
Prince Harry, also known as the Duke of Sussex, has been a patron of WellChild since 2007. And on Tuesday, his wife, Meghan Markle, joined Prince Harry at an event for WellChild, one of his most cherished causes. They attended both a pre-awards reception, according to People, and Prince Harry was set to present awards at the event and meet winners with the Duchess of Sussex, according to Harper's Bazaar.
Markle attended the WellChild Awards after a month-long vacation from official appearances, according to Town and Country. But her husband has been a patron of the organization for a long time. The occasion marked the first time Markle has been in attendance, and so far, she's mostly getting attention for the "striking black trouser suit" she wore, rather than the reason Markle and Prince Harry are on hand for the event.
WellChild is an organization that supports children and young people battling serious illnesses, according to Harper's Bazaar. The WellChild Awards also honor their caregivers, and this year, it took place at the Royal Lancaster Hotel near Hyde Park, according to The Daily Express.
At the awards, Prince Harry presented an award for "Most Inspirational Child" during the ceremony and delivered a speech, The Daily Express reported. It appeared that Markle, on the other hand, was there to support the cause and to be there for her husband's appearance.
The WellChild Awards event is "one of the annual highlights of Harry's public calendar," according to People. Some of the WellChild Honorees this year include Matilda Booth, a 7-year-old who is paralyzed with spina bifida from the chest down who has been through seven brain surgeries as well as more than 40 operations, and Chloe Henderson, 10, who was born 10 weeks early and has cerebral palsy and who recently became the first "differently abled child" to pass a pre-primary ballet award with the prestigious Royal Academy of Dance, People reported.
Booth reportedly gave Markle a posy of flowers when they met as part of the ceremonies, according to The Daily Express. Based on a video of their meeting, Prince Harry was not likewise gifted with such a thoughtful item, and it sort of looks like he got a little cheeky with Booth about that. But it sounds like Prince Harry truly enjoys the event, and just being there is gift enough for him.
Markle hasn't publicly announced her first patronage, but has been seen regularly supporting her husband's causes and humanitarian efforts in recent months, according to Town and Country.
For example, Markle made an appearance just last week at a performance of Hamilton in the West End for a gala performance that benefitted Prince Harry's charity, Sentebale. But that might not have been an official appearance the way the WellChild event was for the Duchess.
In addition, later this week, the couple is scheduled to attend the 100 Days to Peace gala, according to Town and Country. The event marks the centenary of the end of WWI, and raises money for veterans support organizations.
In particular, it seems like Prince Harry and Markle especially appreciate charity events where they get to interact with children.
Case in point: on the second day of the AIDS Conference in Amsterdam back in July, Prince Harry appeared with Sir Elton John in order to launch the MenStar Coalition, and during the appearance, he offered hugs to some of the kids who came up on stage with him. Prince Harry may have actually broken royal protocol when he did that, because when someone meets a member of the royal family, the protocol is for men to do a neck bow and for women to do a small curtsy, the royal family's website reported. Hugs are not exactly in the rulebook, but Prince Harry didn't seem to mind.
The WellChild Awards event sounds like a really lovely ceremony, and one that lets both Prince Harry and Markle meet some amazing, inspiring kids. If the photos from the event are any indication, they both seemed to enjoy and appreciate the occasion.