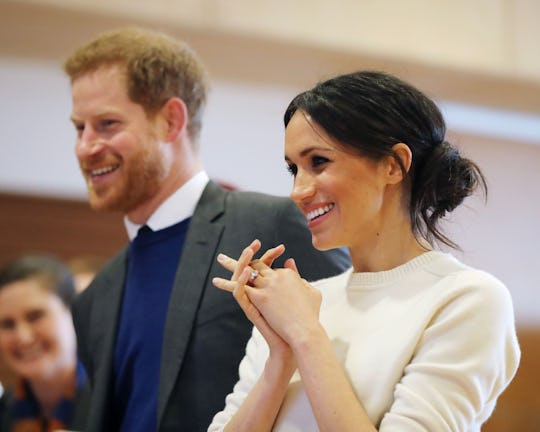 Pool/Getty Images Entertainment/Getty Images
Meghan Markle May Have Hinted At A Possible Royal Baby, & OMG
The invitations have been sent and the countdown has officially started — Prince Harry and Meghan Markle's royal wedding will be here before you know it when it happens at the end of May. This, of course, is huge. But once that happens, everyone will be wanting to talk about their plans in the future, as if people haven't started doing that already. But they might be talking about it more now that Markle may have hinted at a possible royal baby and it really could not be any more exciting.
In the weeks leading up to their nuptials, Markle and Prince Harry are doing all of the things your average couple does — like tour countries together and make royal appearances together every week. All jokes aside, Markle and Prince Harry toured a science park in Northern Ireland on Friday, according to People, where the soon-to-be newlyweds met with a husband and wife team that make "innovative and hypoallergenic baby products." That sounds like a great gift for Prince Harry's future niece or nephew, when his brother, Prince William and his wife, Kate Middleton, welcome their third child in the upcoming weeks.
But Markle had a different idea and in her comments to the couple who created the products, it is very possible that she dropped a hint about a potential future royal baby. Markle reportedly pointed to the line of products, according to People and said: "I'm sure at some point we'll need the whole thing." Say what?
Why would Markle need a line of hypoallergenic baby products "at some point"? Well, if you read between the lines, you can assume it's because she might want to have a baby "at some point." Now that isn't a "yes we're going to have kids" or a "we're going to start trying for kids immediately," but Markle's comments do allude to a possible royal baby sometime in the future and that is a lot better than a flat out "no."
But this isn't the first time that either Markle or Prince Harry have eluded to the fact that they want kids together, possibly some time soon. When they got engaged in November (doesn't that seem like ages ago?), during their first televised interview together, Prince Harry said that he and Markle were eager to start a family together, according to Us Weekly, but that wouldn't be their first priority as a married couple. "...I think eventually, one step at a time, and we'll start a family in the near future," Prince Harry said.
He's right, their wedding and wedding planning needs to come first before any family planning happens. But that won't stop people from obsessing and getting some serious baby fever for the couple. Just this week, "royal expert" and author of the new book Harry: Life, Loss, and Love told Entertainment Tonight on Tuesday that Prince Harry is "keen to start a family, pretty soon after the royal wedding." If that doesn't make you swoon or get excited for the future, then I don't know what will.
But even before Markle and Prince Harry were a couple, Markle already had set her sights on motherhood, even if it wasn't going to happen right away. In 2016, during an interview with Lifestyle, according to HuffPost, Markle said:
I also dream to have a family. It's all about balance, and I have so much happiness in my career and am fortunate to travel the world and see so many amazing things — it will also be nice to be anchored to something grounded and in the same place. Raising a family will be a wonderful part of that.
From the sounds of it, Markle and Prince Harry are super excited to have a kid, when they're ready. Once the royal wedding takes place, the countdown will be on.