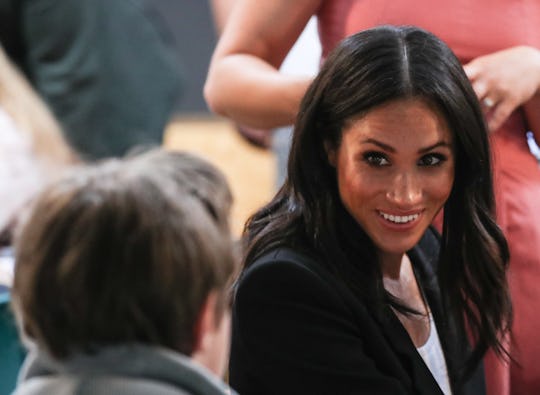 Pool/Getty Images Entertainment/Getty Images
Meghan Markle May Have Shared Her Opinion On Abortion Rights, Without Getting Political
The royal family members have a ton of rules they must adhere to in their everyday lives. One of the most important rules is that they are not allowed to share their political opinions. That being said, it's no surprise that Meghan Markle, Duchess of Sussex has already gotten a bit more political than some of her new family members. An Irish politician recently tweeted a message implying that Meghan Markle shared an opinion on Ireland's abortion referendum. She later followed up by clarifying the conversation she had with Markle, and then deleting the tweets altogether.
On Tuesday, Markle and Prince Harry, Duke of Sussex, attended the British Ambassador's summer garden party in south Dublin, The Irish Sun reported. At the event, the Duchess met Sen. Catherine Noone, an Irish politician, the Irish Times reported. Afterwards, Noone reportedly took to Twitter to dish on her chat with Markle. "The Duchess and I had a chat about the recent referendum result — she watched with interest and was pleased to see the result," Noone reportedly wrote on Twitter, according to the Irish Times.
Noone was referring to Ireland's abortion referendum, which was held in late May. The Republic of Ireland voted to overturn abortion, which was previously only allowed when a pregnant woman's life was in danger, according to the BBC. The referendum effectively legalized abortion, so Markle allegedly expressing that she was "pleased" at the results might mean she is pleased that women in Ireland will have access to abortions.
The senator seemingly realized she made Markle seem too political for a royal, so she reportedly posted a followup tweet. "I should say she seemed pleased — she was interested and very measured, not political at all," Noone tweeted, as the Irish Times reported.
However, Noone wound up deleting both tweets, according to the Irish Times, and she replaced them with a photo of herself chatting with Markle. "A pleasure to meet Prince Harry & the Duchess of Sussex at the British Ambassador's Residence this evening," Noone wrote alongside the shot on Twitter.
Following some criticism on Twitter, Noone further explained the tweet in a statement she provided to Independent.ie. She told the Irish news site:
I deleted it because it was unintentionally misleading – the Duchess was not in any way political.
Noone also took the time to respond to a few Twitter trolls who criticized her and Markle. She tweeted that Markle "didn't breach protocol," "expressed no political opinion," and "was interested and charming."
All that being said, the issue here was not that Markle is an advocate of women's rights, specifically abortion. Markle is a very outspoken feminist — her profile on the official royal website includes her quote "I am proud to be a woman and a feminist," and no one should be surprised that she would support women having autonomy over their bodies. Rather, the issue was that it seemed, as the conversation was initially relayed, like she expressed a political opinion. As explained by CNN, the reason the royal family is not supposed to share political thoughts is because they need the support of politicians on both the left and the right. If Markle made a speech and explicitly stated her opinions regarding abortion rights, maybe that would be an actual controversy — but her simply saying she was pleased about a referendum that already happened in a private conversation with a senator should not be controversial.
Honestly, I think the attitude Markle reportedly expressed to Noone is perfectly appropriate for a royal. As Noone later noted, the Duchess did not express a political opinion nor breach "royal protocol," so there isn't really a scandal here. Sorry, haters, but Meghan Markle is still killing it as a royal.