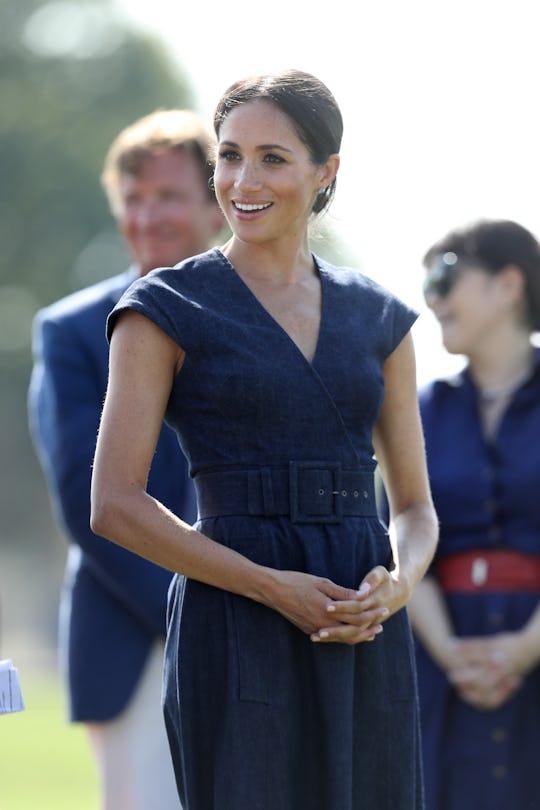 Chris Jackson/Getty Images Entertainment/Getty Images
Meghan Markle Might Finally Be Planning To Confront Her Dad
Meghan, the Duchess of Sussex, might be the picture of poise and newly-minted-royal perfection, but try as she might to exude calmness and cool, she's unfortunately had to contend with a fair amount of tabloid embarrassment, thanks to her father, Thomas Markle. Having seemingly fallen out ahead of her wedding to Prince Harry in May after he admitted to staging paparazzi photos, Thomas also had to back out of walking her down the aisle due to last-minute medical issues. He's continued to give interviews about his daughter though, and now, Meghan Markle might be planning a secret meeting with her dad, according to The Mirror — and it could be happening as soon as the end of the month.
But while sources told the outlet that Thomas is looking forward to the meeting, it seems that he might want to be prepared instead for his daughter to be pretty upset. After all, it's not simply that Meghan has frozen him out for befriending the paparazzi, or for not attending her wedding. Given that he's hardly stopped offering his controversial opinions about Meghan and the royals ever since his daughter tied the knot, she probably isn't feeling so forgiving at the moment.
I can't really say I blame her though. In July, for example, Thomas told The Sun he believed his daughter was "terrified" in her new role as a duchess, and that he thought she was "under too much pressure," despite not having actually spoken to her about it. He then told The Daily Mail that Meghan had "cut [him] off completely," and changed her phone number without telling him. And then he criticized his daughter for her "sense of superiority" and for being "cold," before claiming that it might "be easier for Meghan if [he] died," as "everybody would be filled with sympathy for her."
But that's also far from being all he's said: Thomas also told The Daily Mail he thought Prince Harry's late mother, Princess Diana, "would have loathed the way [he's] been treated," and said he's "just about reached my limit with Meghan and the Royal Family," comments which honestly seem pretty uncalled for. Add into that previous comments he made in a television interview with Good Morning Britain, according to Harper's Bazaar, in which he discussed Prince Harry potentially being a Trump supporter, and Meghan wanting to have children "soon," and well, it's not exactly surprising to hear that the duchess may not have been feeling entirely eager to reach out to her dad.
In other words, if Meghan is planning on visiting her dad in the United States in the next few weeks, it seems likely that it will be less about "reuniting" and more about having the opportunity to tell him directly that he seriously needs to stop talking to the press — not only is he directly profiting off his royal ties, he's almost certainly causing his daughter a ton of stress and embarrassment.
Yet in the wake of the story, another of Meghan's incredibly outspoken relatives has chimed in to say that she doesn't think the meeting will even happen. According to The Express, Meghan's older half-sister, Samantha Markle — who has been consistently critical of the duchess ever since her engagement to Prince Harry — shot down the rumor, and said, "I speak to [Thomas Markle] every day and it's sad but, no, they have not contacted him."
Dismissing the potential meeting wasn't all she was doing though: on Meghan's 37th birthday Saturday, Samantha tweeted that her sister should consider sending their dad a belated birthday card, according to The Sun, and previously suggested that, if Thomas were to die, it would be Meghan's fault.
Of course, Meghan is certainly not the only person to endure family drama, and over the years, the royal family has definitely dealt with its fair share. But having to grapple with it so publicly must feel awful, particularly when her attempts to take the high road and simply not respond don't seem to be doing much at all to keep her father and sister from continuing to criticize her.
If Meghan is playing to reconcile with her father, then hopefully she is able to. But if she's just planning on sitting him down and asking him to stop? I don't exactly think *anyone* will blame her.