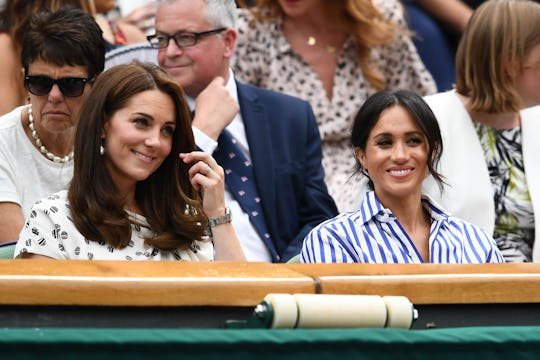 Clive Mason/Getty Images Entertainment/Getty Images
Meghan Markle Wrote About Kate Middleton & Her Royal Wedding Years Ago
Before Meghan Markle became Duchess of Sussex, she was an actress and a blogger. And apparently, Meghan Markle once wrote about her future sister-in-law's wedding on her blog, before she ever even dreamed of joining the royal family. The blog has since been shut down, but someone was able to track down a past post in which Markle talked about princesses, even mentioning Kate Middleton, her future fellow royal family member. Talk about a small world — or just a weird coincidence!
The Daily Mail found an archived version of an interview Markle did with Princess Alia Al Senussi, a humanitarian and member of the Al Senussi family, which she writes was "exiled from Libya when Gaddhafi seized the throne in a coup d'état" in the blog post. Markle wrote about how little girls dream of being princesses, and how many keep that dream into adulthood, The Daily Mail reports.
But the part of the blog post that's drawing particular attention now is the beginning, in which Markle mentions her current sister-in-law. Markle began the blog entry, according to the archived post:
Little girls dream of being princesses. I, for one, was all about She-Ra, Princess of Power. And grown women seem to retain this childhood fantasy. Just look at the pomp and circumstance surrounding the royal wedding and endless conversation about Princess Kate.
Little did Markle know that she herself would one day be in the same shoes as "Princess Kate," with a fancy royal wedding making her the newest member of the British royal family.
Markle's blog, The Tig, was shut down when she and Prince Harry got serious, according to Glamour. Markle's interview with Princess Alia Al Senussi was published on July 7, 2014, and news of Prince Harry and Markle's relationship didn't break until late Oct. 2016, according to USA Today.
Plus, the outlet reported that Prince Harry didn't introduce Markle to his sister-in-law, the Duchess Kate of Cambridge, until Jan. 2017. So for a couple of years there, Markle had a blog post up referring to Middleton and her wedding, with no clue that they'd one day meet and not only become friends, but family members.
To be fair, some of the coverage of this blog post discovery has been a little mischaracterized. Markle didn't specifically say she had always dreamed of being a royal princess like Middleton, really. She just noted that a lot of little girls dream of what it'd be like to be a princess, and her personal inspiration was more She-Ra than Cinderella.
And there was a lot of conversation surrounding both Middleton's wedding to Prince William and Markle's wedding to Prince Harry, so Markle was pretty spot-on about how obsessed the public can get with weddings involving, well, a princess.
But the rest of the blog post wasn't about Middleton at all. Rather, it focused on Princess Alia Al Senussi and her work on the Board of Trustees for Global Heritage Fund, as well as her education in International Relations and Middle East Studies, Law, Anthropology, and Science, and her hard work towards getting her PhD in Middle Eastern Politics. The whole point of the piece was that a princess can be much more than a royal whose wedding gets lots of attention — they can use their position to be an activist and humanitarian.
This is something Middleton does as a member of the royal family, and something Markle already had a knack for in the past. Middleton works tirelessly on the Heads Together initiative to raise awareness of mental health issues, and Markle was known for championing women's rights and as a global ambassador for World Vision, an advocate for UN Women, and a counsellor for One Young World before her marriage, according to CNBC. It remains to be seen how she'll get involved in activism as Duchess of Sussex.
Hopefully, the fact that Markle once wrote rather offhandedly about Middleton's wedding and the public discussion about her is something the two sisters-in-law can laugh about now.