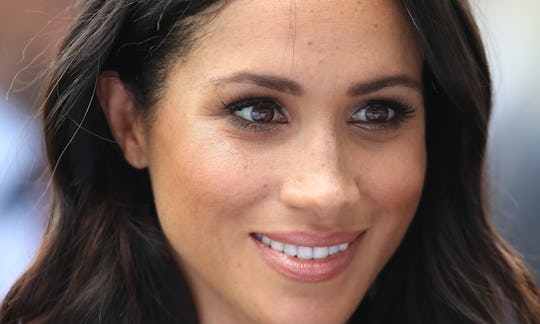 Chris Jackson/Getty Images Entertainment/Getty Images
Meghan Markle Plans To Give Her Future Daughter This Personalized Piece Of Jewelry One Day
Following Meghan Markle's engagement news in November 2017, her old interviews with the press were analyzed and brought to life once again. As for the most recent interview to make the rounds, look no further than the Duchess of Sussex's discussion with Hello! Magazine in 2015 about her "style secrets" and "shopping wish-list," recently unearthed by People. Although the sit-down might seem innocuous on the surface, royal aficionados will want to revisit this one because in it Meghan Markle revealed the gift she'll give her daughter one day. Apparently, Duchess Meghan plans to pass down a very expensive piece of jewelry to her potential little girl in the future.
Almost immediately after Duchess Meghan said "I do" to Prince Harry, Duke of Sussex, in May, rumors about the couple's baby plans circulated on the internet. In fact, just last month gossip about Markle's uterus reached a fever pitch when Prince Harry sold his 2017 Audi RS6 Avant, leading some people to speculate that he was in the market for a more family friendly vehicle, as noted by Now To Love. It's important to note, however, that Duchess Meghan and Prince Harry have yet to make a pregnancy announcement or publicly address their plans, and it's probably best if fans leave them be for now.
In the meantime, their supporters can live vicariously through Markle's past quotes about her future kids, like the time she opened up about passing down her Cartier French Tank watch to her hypothetical daughter. The interesting piece of information came up when the former Suits star was asked to describe a special piece of jewelry in her collection.
"I've always coveted the Cartier French Tank watch. When I found out Suits had been picked up for our third season — which, at the time, felt like such a milestone — I totally splurged and bought the two-tone version," Markle told Hello! Magazine in 2015. "I had it engraved on the back, 'To M.M. From M.M.' and I plan to give it to my daughter one day. That's what makes pieces special, the connection you have to them."
So touching, right? Not only is it great that Markle treated herself after landing a major accomplishment, but it's especially amazing she wants to pass on this symbol of success to her daughter. The watch — that retails for about $7,050, according to Glamour — is more than a piece of jewelry, after all. It's a commemoration of Duchess Meghan's hard work, perseverance, and self-love — qualities she probably hopes to pass on to her little girl one day. Too sweet.
So, when will Duchess Meghan and Prince Harry welcome a baby into their family? Although the two have expressed that they want to have kids one day, it probably won't happen in the immediate future, which is probably thanks to the couple's busy travel schedule. Markle and Prince Harry will visit Australia, New Zealand, Fiji and the Kingdom of Tonga in October, and then there's a possible trip to the United States in the spring, according to the Standard. "They are thinking New York, Washington, D.C., and California... They're working to finalize locations and venues," a supposed insider told Us Weekly. " … The Canadian Foreign Office has heard about the tour and would love to have them stop there. This may very well become a North American tour."
Though a baby might not be in the immediate future for the Duke and Duchess of Sussex, don't think kids aren't on their radar. For example, at an event in Ireland back in March featuring local entrepreneurs, Markle and Prince Harry met a couple who own a line of hypoallergenic baby products. While she looked over the baby goodies, the duchess told the inventors: "I'm sure at some point we'll need the whole thing," according to ELLE. How telling.
No matter when Prince Harry and Duchess Meghan will have kids, I bet she's looking forward to the day when she'll be able to pass on her special watch and inspirational story of success to her future daughter or granddaughter.