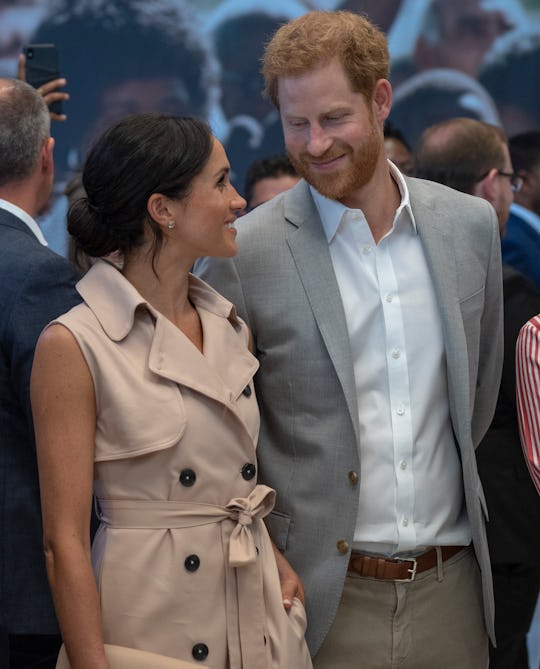 WPA Pool/Getty Images Entertainment/Getty Images
This Reality TV Show Meghan Markle & Prince Harry Love Is Probably One Of Your Favs, Too
Britain's cutest royal couple has always seemed so relatable, and now it's been confirmed that the palace's newest dynamic duo loves two things many busy parents adore as well — cute children and reality TV. A breaking report from across the pond claims that Meghan Markle and Prince Harry love a certain reality show you might be obsessed with as well, and the news only makes the world love the Duke and Duchess of Sussex more.
According to a report from Hello! Magazine, a former finalist on The Voice Kids, Donel Mangena, has gone on local TV show Lorraine to talk about his astonishment at the couple's effusive greeting to him backstage at the Queen's 92nd birthday celebrations at London's Royal Albert Hall in April. "Harry and Meghan walked in and I expected a handshake but Meghan screamed my name and ran over to give me a hug," the young singer recalled of the event, which took place before both the royal wedding and the show's finale, according to Hello! Magazine.
Mangena added in the same interview that Prince Harry told him "our money's on you," to win the program, to which he jokingly replied, "Thanks Harry, no pressure."
The teen had been invited by Prince Harry to his grandmother's party to perform his own rendition of Pharrel's "Happy," joining such entertainers as Kylie Minogue, Shaggy and Tom Jones, according to Hello! Magazine. In the end, Mangena lost out to 14-year-old Daniel Davies from Wales, according to The Sun, who totally stunned audiences with "Anytime You Need a Friend" by Mariah Carey.
But finalist Mangena, who is launching his own single and scored a record deal out of the whole thing, as the singer told the Lorraine show, can certainly take with him the confidence of having such royal praise. "It was just crazy getting a hug from Prince Harry and Meghan Markle," he recalled, according to clip of the interview shared on YouTube.
The Voice has been a huge hit internationally, although The Voice Kids is an offshoot with local versions abroad, from the United Kingdom to the Netherlands, according to NBC. In the United States, according to NBC, kids 13 and older with their parents' permission are allowed to compete with adult singers.
Meanwhile, The Voice Kids U.K. is absolute tons of fun to watch while on this side of the pond you can hope for our own version, and one of the three judges is even an American: will.i.am of The Black-Eyed Peas! Brits Pixie Lott and Danny Jones are co-judges in deciding which budding artists merit the turning of the famed red chairs, according to The Guardian, which has slammed the show for creating too much pressure for young kids.
As for Markle and Prince Harry, it's been reported by ELLE that they like to watch other shows, too, including The Crown, funnily enough, the story of a much-younger Queen Elizabeth.
So between their busy schedules and royal appearance, where's all this TV watching happening? The Duke and Duchess of Sussex are currently based at Nottingham Cottage, a cute two-bedroom property on the grounds of Kensington Palace, according to The Telegraph. The cottage was previously occupied by Kate Middleton and Prince William, who used it as their London base for several years, The Telegraph reported.
I don't know about you, but it's pretty fun to know one more anecdote about Prince Harry and Markle that just makes these royal lovebirds even more relatable.