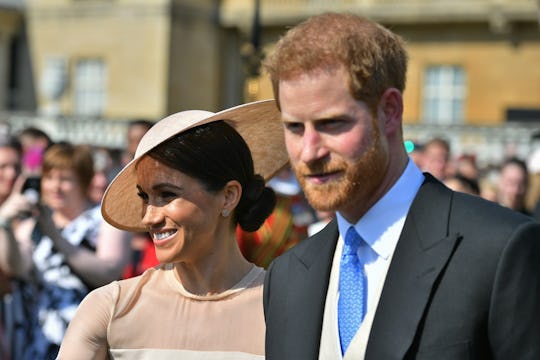 WPA Pool/Getty Images Entertainment/Getty Images
Meghan Markle & Prince Harry Made Their First Appearance Since The Wedding, & They Look Incredible
Prince Harry and Meghan Markle's wedding was such a grand affair that people are still talking about it four days later. But it is kind of hard not to talk about one of the biggest celebrations of the year, especially since it was televised for everyone to see. But people must move on and it's clear that both Markle and Prince Harry have. On Tuesday afternoon, Markle and Prince Harry made their first appearance since the royal wedding, proving that business must continue as usual, even if other people are still hung up over their wedding.
Never underestimate the power that one wedding between an American actress and a British royal has in bringing people together. Over 29 million people in the United States tuned in to watch the royal wedding on Saturday morning, according to CNN, making it one of the most watched and talked about television programs of the year. While people are still talking about the celebration on Twitter — and will continue to do so for a while, as evidenced by the memes spurned from the wedding — the excitement has to wear off eventually.
Maybe the excitement has worn off for Prince Harry and Markle, who made their first official appearance as a married couple on Tuesday at Buckingham Palace in honor of Prince Charles' 70th birthday, according to People. The couple dressed in their finest to celebrate Prince Harry's father's birthday, and they could not have looked any more put together. It's hard to believe that just four days earlier, they had been reportedly dancing and drinking the night away with 200 of their closest friends and family members, according to E! News.
During the appearance, according to the Telegraph, Prince Harry spoke to the 6,500 guests in attendance about how his father has influenced him over the years. Prince Harry said, according to the Telegraph:
It is your selfless drive to affect change, whether that is to improve the lives of those who are on the wrong path, to save an important piece of our national heritage, or to protect a particular species under threat, which William and I draw inspiration from every day.
So sweet. Based on the fact that Prince Charles helped walk Markle down the aisle on Saturday when her father couldn't, it is clear that Markle's new father-in-law has some influence on her, as well.
But before people go wishing Prince Charles a happy birthday, it should be noted that Prince Charles' doesn't turn 70 until November, according to People. But if the royal wedding was any indication that the royal family celebrates things a bit differently than most families (after all, the celebration was rich with tradition) — then it shouldn't come as a surprise that they have their own way of approaching birthdays, too. Because Prince Charles is next in line for the throne, this milestone birthday is kind of a big deal. And the event that happened on Tuesday is just one of the multiple celebrations being held in his honor this year, according to People.
Although most newlyweds leave for their honeymoon right after their wedding, this wasn't the case for Markle and Prince Harry. Weeks before they said "I do," Kensington Palace announced that the couple would delay their honeymoon because they had official royal appearances scheduled for the week after their wedding, according to Town & Country. The couple will reportedly head off to an undisclosed destination at a future date for their honeymoon when they aren't so busy, according to Harper's Bazaar. The location is kept a secret, of course, to protect their privacy and allow them to enjoy some much needed down time as a married couple.
Considering how fast they headed back to work after their wedding, the couple will definitely need that relaxing time together.