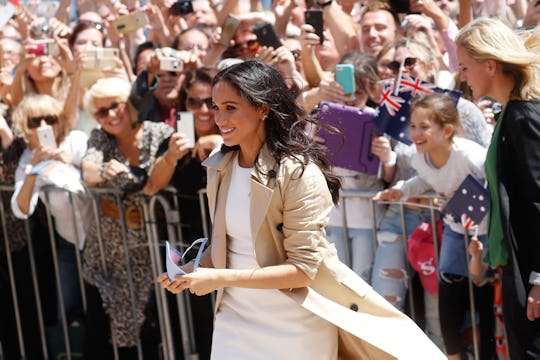 Chris Jackson/Getty Images Entertainment/Getty Images
Meghan Markle & Prince Harry Make Their First Appearance After Royal Baby News
By now, the big news has managed to travel around the world: another royal baby is on the way! On Monday, Oct. 15, Prince Harry and Meghan Markle announced they are expecting their first child. The news comes on the heels of weeks of speculation about a possible pregnancy — including fans picking apart the Duchess of Sussex's recent outfits, hairstyles, and more for any hint of a baby on board. And they didn't have to wait too long to get their first glimpse of a confirmed-pregnant Markle. That's because Meghan Markle and Prince Harry made their first appearance following the royal baby news. And it seems royal fans are already delighted by her "bump."
Kensington Palace revealed the baby news via Twitter on Monday, E! Online reported. "Their Royal Highnesses The Duke and Duchess of Sussex are very pleased to announce that The Duchess of Sussex is expecting a baby in the Spring of 2019," the official pregnancy announcement read. "Their Royal Highnesses have appreciated all of the support they have received from people around the world since their wedding in May and are delighted to be able to share this happy news with the public." The tweet was met with shock, words of congratulations, and a collective, "OMG, another royal baby!" from fans everywhere.
Just hours after dropping their baby bombshell, Prince Harry and Markle made their first official appearance as parents-to-be, Cosmopolitan reported. The couple was actually photographed in Sydney — which was the first stop on their tour of Australia, New Zealand, Tonga, and Fiji. There, the Duke and Duchess of Sussex attended a welcome ceremony, hosted by Australian Governor General and his wife Lady Cosgrove at the Admiralty House in Sydney. For royal fans dying to get a look at the expecting mama — now that they know she's pregnant and all — this was their first opportunity for an actual "bump watch." Take a look at the photos, for yourself!
Seriously, though. Doesn't Markle look absolutely stunning in these photos? (I'm currently 28 weeks pregnant; can I borrow some of that elusive "glow" that always seems to skip over me?) Royal fans were quick to offer their commentary on Markle's "bump" — if it's even late enough in the game to official call it that. (Reports have varied as to how far along she is, ranging from 12 weeks, according to Cosmopolitan, and 15 weeks, according to Us Weekly.) One Twitter user simply wrote, "The Royal bump," alongside a heart emoji and heart-eyed emoji face.
Another Twitter user pointed out, "Meghan Markle has debuted a TINY baby bump - but to be honest my tummy is bigger after eating a burger for lunch."
Yet another person was already annoyed by the language that's bound to come in regard to Markle's pregnant body. They wrote, "Are you ready for all the "FLAUNTING HER BUMP" headlines?? I, for one, am not." If you think about, they do have a good point. Famous pregnant women existing in public is always referred to as "flaunting" or "showing off" her bump. (Like they have a choice about how their pregnancy presents?)
According to People, Harry and Meghan have already received their first baby gift while in Sydney: a stuffed kangaroo and a pair of fleece Ugg booties. The adorable items were gifted to the expecting parents by Governor General Peter Cosgrove and his wife, Lady Lynne Cosgrove, according to the publication. Upon receiving the thoughtful presents, Markle reportedly said, "That's so cute, it's our first baby gift."
Adorable baby gifts aside, I have a feeling pretty much every leg of Meghan Markle and Prince Harry's tour of Austrailia, New Zealand, Tonga, and Fiji will be a bump watch opportunity. (Then again, that's pretty much going to be the norm from here on out.) From a fellow pregnant woman, I couldn't imagine my body being in the spotlight in this way — with strangers constantly scrutinizing how big my bump is or isn't during an extremely vulnerable time. Sure, Markle is used to the world judging her fashion choices by now. But it's a whole other ballgame when you're in the process of dressing a body that's growing a human being.