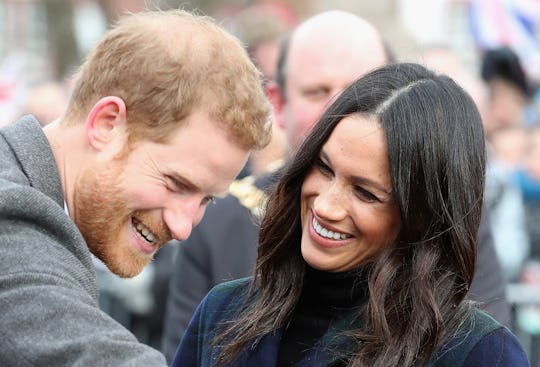 Chris Jackson/Getty Images Entertainment/Getty Images
Suspicious Letter Sent To Meghan Markle & Prince Is Being Treated As A "Racist Hate Crime"
With the royal wedding a mere three months away, it's been reported that the happy couple is already facing threats to their safety. Unfortunately, Meghan Markle and Prince Harry reportedly faced an anthrax scare, and police are investigating the threat as a racist hate crime. As originally reported by the Evening Standard, a letter addressed to Markle and Prince Harry reportedly had a white powder substance in it, which was suspected to be anthrax. Romper's request for comment from Kensington Palace on the incident was not immediately returned.
Anthrax, for those unaware, is a specific type of infectious, bacterial disease with only one cause, "the spore-forming bacterium Bacillus anthracis," as Metro UK reported. Basically, anthrax is a deadly disease typically only found in animals, except when its spores are turned into a powder and that powder is inhaled by humans, which has been done before. In fact, shortly after the 9/11 terrorist attacks in 2001, letters containing anthrax were sent to media offices in the United States on Sept. 18, resulting in the death of five people who were exposed to anthrax, according to NPR.
Now, it appears as though an attempt to pass something as anthrax was targeted at the royal couple and officials think racial hatred may very well have been a motive, British officials told CNN.
The letter was reportedly received more than a week ago, on Feb. 12, but news of the threat was only recently released, as palace officials have allegedly been trying to keep the incident out of the public eye so as not to alarm citizens, according to the Evening Standard. As CNN reported, the letter also seemed to have contained racist messages, although it's unclear what exactly the messages were, or if they were in regards to Markle.
According to the Evening Standard, the Metropolitan Police department has released the following statement regarding the letter:
Police are investigating after a package containing a substance was delivered to St James's Palace on Monday, 12 February. The substance was tested and confirmed as non-suspicious. Officers are also investigating an allegation of malicious communications which relates to the same package.
The London counter-terrorism command is working with the Metropolitan Police and investigators are treating the incident as a "racist hate crime," according to CNN. The Metropolitan Police told the outlet that the white, powdery substance was found to be harmless, but security is still on high alert with the royal wedding fast approaching. Especially since another suspicious letter was sent to the royal residence on Feb. 13, according to the Evening Standard. "Police revealed a package containing white powder had been sent to Parliament, reportedly to the office of Home Secretary Amber Rudd," the publication reported.
Unfortunately, these scenarios are scarily familiar to the anthrax letter threat in 2001 in the United States. But, fortunately, it was found that both letters in the United Kingdom appeared to be harmless, but the racist threats are still concerning, as this isn't the only time Markle has been targeted. Back in November of 2016, Prince Harry released a statement about the harassment of his then-girlfriend, Markle, was facing and how the media was covering her unfairly.
In an official statement from his Press Secretary, Prince Harry's statement called out those who were saying horrid things about Markle. In part, the statement read:
His girlfriend, Meghan Markle, has been subject to a wave of abuse and harassment. Some of this has been very public - the smear on the front page of a national newspaper; the racial undertones of comment pieces; and the outright sexism and racism of social media trolls and web article comments.
Markle's mother is black, while her father is white, and it appears to be something that many people take issue with. But now, the latest scandal took racial hatred to a whole new level, and while the letter was found to be physically harmless, reports that it contained racist messages mean that Markle and Prince Harry are still being attacked, in a different, but very concerning way.
Check out Romper's new video series, Bearing The Motherload, where disagreeing parents from different sides of an issue sit down with a mediator and talk about how to support (and not judge) each other's parenting perspectives. New episodes air Mondays on Facebook.