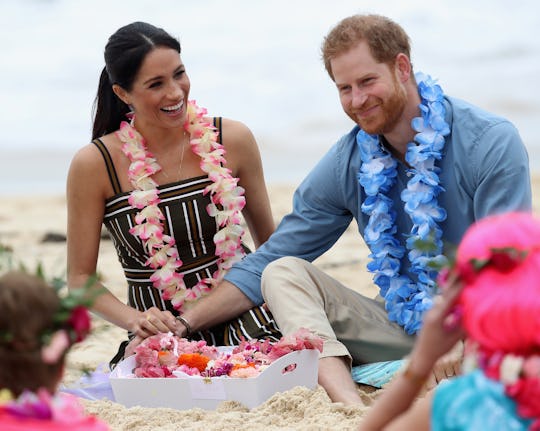 Chris Jackson/Getty Images Entertainment/Getty Images
Good News: You'll Get To See Meghan Markle & Prince Harry Much Sooner Than You Think
During Meghan Markle and Prince Harry's most recent royal tour to Australia, New Zealand, Fiji, and Tonga, everyone got to see a glimpse at her baby bump. And now that the three week tour is over, fans are seeing less of the royal couple (which means fewer bump sightings). But people shouldn't stress, because Meghan Markle and Prince Harry's next royal outing is happening a lot sooner than you think.
Early last month, Markle and Prince Harry embarked for their three week long tour, according to Town & Country, paying a visit to organizations, having conversations with well wishers, and attending the Invictus Games. This visit just so happened to coincide with their very important announcement — that they are expecting their first child together — which they revealed on the first day of the trip. So, during the past three weeks, everyone got to see glimpses of Markle's growing bump and see what kind of information the couple revealed about Markle's pregnancy.
Without them making daily appearances, it's understandable why the public might be upset not seeing Markle's fabulous maternity style. But the couple won't be out of the spotlight for too long. They are expected to make their next appearance on Saturday, Nov. 10 for the Festival of Remembrance Service at Royal Albert Hall, according to People, where they will be joined by other famous family members (which means more royal sightings).
Although Markle might not be making her next appearance until next week, Prince Harry will make an outing by himself just a few days earlier on Nov. 8, according to People. So, royal watchers will only have to wait eight short days until they get to see a glimpse of Markle again — and the wait will definitely be worth it.
During their most recent tour, a lot was said about Markle's pregnancy and the child they're expecting this upcoming spring, according to Express. Markle expressed her excitement over receiving her first baby gift, according to People, told well wishers that she would see them soon (with her baby in tow), and stated that they were unsure what they are going to name their baby.
"We've been given a long list of names from everyone, we're going to sit down and have a look at them," Markle reportedly said during a stop in Melbourne, Australia, according to People.
It's easy to see that Markle is super excited about her pregnancy and just as excited to share it with the rest of the world. One day after their royal tour ended, Kensington Palace shared a photo that Prince Harry took of Markle, where she looks absolutely radiant, cradling her bump. Just based on everything both Markle and Prince Harry have said about her pregnancy (he's referred to their future baby as "the bump," according to Cosmopolitan), you can tell they are so happy — as if that wasn't clear in the photo.
People obviously have every right to want to see Markle (and her bump) again. But at the same time, Markle does need her alone time and her rest. During one stop during their tour in Australia, Markle reportedly told one well wisher that being pregnant was like "having jet lag," according to People. And during their tour, Markle reportedly had to skip out on a few appearances because pregnancy took its toll on her and she needed the rest, according to Cosmopolitan.
Making so many official appearances while pregnant can be taxing. But if Markle's sister-in-law, Kate Middleton, could make royal appearances through her eighth month of pregnancy, then people will have many more months of watching Markle's bump grow.