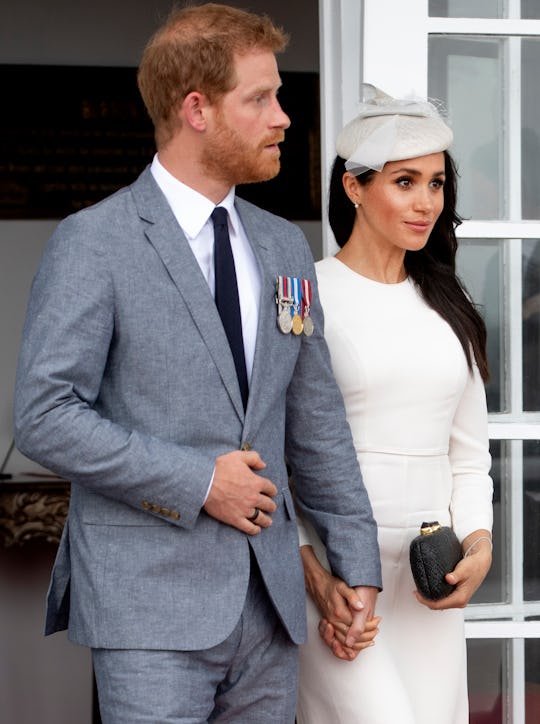 Pool/Getty Images Entertainment/Getty Images
Meghan & Harry's Trip To America Has Reportedly Been Postponed For A Totally Valid Reason
There's so much to be excited about for the royal family, particularly with the new Duke and Duchess of Sussex. While in the middle of one of their first major international tours in Australia, the couple confirmed what had been speculated for months: the duchess is indeed expecting her first child. It likely goes without saying that the welcoming of a new royal baby will require some time off from royal duties, and rightfully so. In particular, Meghan Markle and Prince Harry's trip to America has reportedly been postponed until after the royal baby is born, and TBH, it's pretty reasonable.
As Prince Harry and Markle's baby is due sometime in the spring, TMZ reported on Tuesday that the parents-to-be are postponing their trip to the states from spring 2019 until fall 2019. And according to Cosmopolitan, Markle has already had to scale back on royal appearances on their Australian tour. Though the reason for the latter has not yet been confirmed, it wouldn't be too outlandish to assume it has something to do with morning sickness, or, you know, just needing some rest.
And sure, many American fans of the royal family will be disappointed that it will likely be at least another few months before Markle touches down in the states and graces us all with wedge sandals and messy buns. But fortunately, it sounds like the wait won't be too much longer.
The happy news about the upcoming royal baby came on Monday, Oct. 15 when Kensington Palace confirmed what had been oft speculated for the past few months. "Their Royal Highnesses have appreciated all of the support they have received from people around the world since their wedding in May and are delighted to be able to share this happy news with the public," the palace said in a tweet.
It all went down while the couple was still in Australia, so the evening after the news broke, Prince Harry actually alluded to his future son or daughter in a press conference. "We're both absolutely delighted to be here and to see you serving beer and tea at an afternoon reception in true Aussie style... We also, genuinely, couldn't think of a better place to announce, uh, the upcoming baby, be it a boy or girl, so thank you very much," Prince Harry told the attendees, according to Entertainment Tonight.
Both Prince Harry and Duchess Meghan have been transparent in the past about wanting to start a family as soon as possible. After they got engaged in the fall of last year, during their first interview with the BBC, Prince Harry shared: "One step at a time, hopefully we'll start a family in the near future."
However, prior to that, Markle had also been clear about wanting a family one day. In an interview with Lifestyle Magazine, she opened up about how one of her ambitions was always to become a mom, after becoming an actress:
I dreamt [of becoming] a successful working actress, which I can now very thankfully tick off the list. And I also dream to have a family... It's all about balance, and I have so much happiness in my career and am fortunate to travel the world and see so many amazing things — it will also be nice to be anchored to something grounded and in the same place. Raising a family will be a wonderful part of that.
It's so sweet to see the couple's dreams finally becoming reality, and though it might mean fewer appearances from the royal couple, it's a small price to pay in exchange for insuring a healthy and happy delivery for both mom and baby.