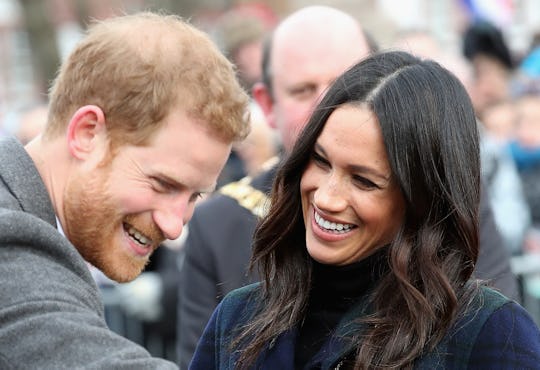 Chris Jackson/Getty Images Entertainment/Getty Images
Meghan Markle & Prince Harry's Wedding Invitations Have Arrived, & They're *Really* Fancy
If you follow Kensington Palace's Twitter account, you probably already know that it does a fantastic job of promoting the royal family's major life events. From keeping fans updated on Kate Middleton's third pregnancy (the baby already has its own website BTW, check it out) to royal wedding news, whoever is managing Kensington Palace's social media presence deserves an award for generating excitement about the royals. And on Thursday, Kensington Palace upped the ante once again when it tweeted out photos of Meghan Markle and Prince Harry's wedding invitations. Of course, the invites are fancy AF and they involve *a lot* of gold.
On Thursday morning, Kensington Palace started live tweeting about Markle and Prince Harry's wedding invites ahead of their nuptials on May 19, because why not. "Invitations to the wedding of Prince Harry and Ms. Meghan Markle have been issued in the name of His Royal Highness The Prince of Wales," the first tweet read, according to Twitter. The account then informed followers that guests were invited to St. George's Chapel for the ceremony, in addition to a "lunchtime reception" at St. George's Hall hosted by "Her Majesty The Queen." *Raises pinkie in the air* And to make matters even more fancy, 200 lucky guests will attend a post-wedding reception at Frogmore House, a fictional-sounding location that I probably wouldn't be allowed to step foot in.
But what about the gold invites? It wouldn't be a royal wedding if gold wasn't involved.
"The invitations follow many years of Royal tradition and have been made by @BarnardWestwood," Kensington Palace revealed, according to Twitter. "They feature the Three-Feathered Badge of the Prince of Wales printed in gold ink."
Ah, how elegant.
As for those of you who are unimpressed by a gold stamp, please note that a woman named Lottie Small used a machine from the freaking 1930s to stamp each card individually. P.S. the machine's name is "Maude."
Additionally, Kensington Palace noted that the English cards were printed with American ink. One can assume this detail is meant to represent Markle and Prince Harry's different backgrounds coming together as one.
BTW, you can check out Small mixing up the gold (I don't know the formal term for this) below:
Austen Kopley, the managing director of Barnard & Westwood, the company that has printed royal wedding invites since 1985, added in a statement, according to The Telegraph:
The wedding of Prince Harry and Ms. Meghan Markle will be a truly special occasion and we are thrilled to be able to create equally special invitations for their guests. We are incredibly honoured to continue our longstanding work for The Royal Family, and to be involved in such an important moment for the couple and their family and friends.
Following the news that the invites were officially sent out, many people took to Twitter to express their ~feelings~ about not being invited to the wedding.
Those guests who did receive an invite will have to wear either a uniform, morning coat, or lounge suit to the nuptials, according to Us Weekly. Um, what's a lounge suit? Is my peasant showing?
Glitzy details aside, it's pretty cool that Markle and Prince Harry will get to say "I do" in just a matter of months, especially since they're both ready for this whole wedding planning thing to finally be over. As some fans might already know, Prince Harry and Markle can't wait to get back to charity work once their schedules free up.
"We're pretty tied up with planning a wedding at the moment but we're hoping to make as much of a difference as we can," Prince Harry said about the couple's post-wedding plans, according to Reuters.
Markle added, according to Metro:
Harry and I see the world so similarly in our approach of being very hands-on with things. I have been fortunate enough to meet with some incredible women and organizations in the UK that are doing work here, but also knowing that some of the work I've done in the past has been in Commonwealth countries.
Although it's easy to get wrapped up in the fancy details with royal weddings, it's important to remember that at the end of the day, Markle and Prince Harry are just two people who want to start their lives together as soon as possible. The gilded edges and gold stamps are just minor footnotes in what will hopefully be a long and happy marriage.
Check out Romper's new video series, Romper's Doula Diaries:
Watch full episodes of Romper's Doula Diaries on Facebook Watch.