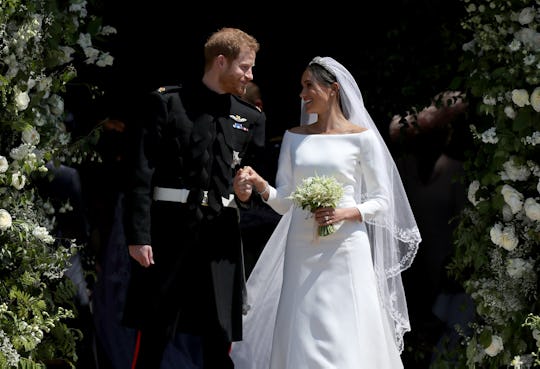 WPA Pool/Getty Images Entertainment/Getty Images
Meghan Markle & Prince Harry's Wedding Portraits Are Finally Here, & They're *Stunning*
Only real royal family fanatics could wake up at the crack of dawn to watch Prince Harry and Meghan Markle's wedding live. Luckily, there will be pictures of the wedding to last a lifetime, including Meghan and Prince Harry's royal wedding portraits, which will likely become iconic.
The royal wedding photographer has probably the most important job, aside from the bride and groom having to show up. For Prince Harry and Meghan Markle's wedding, Kensington Palace enlisted Alexi Lubomirski, a very famous fashion photographer, to take it on. Lubomirski also took the couple's engagement pictures at Frgomore House in Windsor back in December, so he's at least comfortable with his subjects.
He issued a statement when the announcement was made on Instagram saying, "I could not be more thrilled or honored to photograph this historic occasion. Having taken Prince Harry and Ms. Markle's engagement photos, it brings me such joy to be able to witness again, the next chapter in this wonderful love story."
The fashion photographer was a fresh choice for the royal family. Back in 2011 Hugo Burnand took the pictures at Prince William and Kate Middleton's wedding, and he also took the pics at Prince Charles and Duchess Camilla's wedding in 2005. But Lunomirski knew what he was doing. Here's the first peek at the royal wedding portrait from Harry and Meghan's wedding.
In addition to the portrait of just the couple, another royal portrait includes all of the royal family members. The image was taken at Windsor Castle, according to a tweet from Kensington Palace. In it, everyone looks absolutely thrilled to be there — even little George and Charlotte. In 2011, Kate and Will's royal portrait was taken in the Throne Room of Buckingham Palace, so Meghan and Harry broke a couple traditions.
Tim Rooke, who has also photographed the royal family on various occassions in the past twenty years spoke to InStyle about the trials and tribulations of shooting Meghan and Harry. Apparently, photographers have a rough time capturing the couple. He told the outlet:
Ms. Markle and Prince Harry are very much in love, in fact, it's hard for me to capture a picture of them each alone because they always either locked in each other's gazes or joined hands. We like to get fashion shots of what she's wearing on these occasions, but they are often hard to get because she's always holding Harry's hand, making it difficult to get the full fashion shot without cropping out her arm.
Luckily, at their own wedding, that wasn't much of a problem. But he did feel for the royal photographer at the wedding and their crew. Rooke, whom Prince Harry calls "Rookie," added that capturing candid photos at an event such as Harry and Meghan's wedding is no simple task, and not just because the Queen is your boss. Rooke said:
You can't always predict where the royal subjects might go at an event so it's quite hard to anticipate the best position before the event. So much of what you photograph depends on what job you get to do. Sometimes you are lucky, sometimes you are not.
Lubomirski obviously didn't have that problem with the royal wedding portrait. However, the 39-year-old photographer isn't afraid to capture more "real" aspects of his subjects, as people noticed with Meghan and Harry's engagement photos. In it, Meghan is wearing a sheer Ralph & Russo dress that scandalized some people. Lubomirski told Harper's Bazaar that they weren't expecting such a negative reactions.
"I was very shocked with the reaction. To be honest, we tried on a couple of different things and that was just one that she felt comfortable in, so we weren't really thinking, 'Is it nude?' or anything. We just thought, 'Feel comfortable and let's make some nice pictures,'" he said. Which is exactly how all of the royal wedding portraits turned out, too. It's a good thing Harry and Meghan went with a photographer they knew for their big day — this picture will be the one people remember forever.