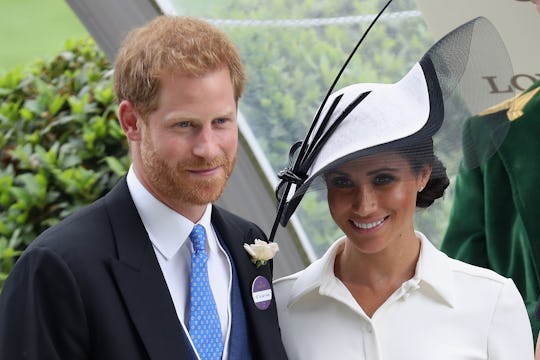 Chris Jackson/Getty Images Entertainment/Getty Images
Meghan Markle Reportedly Bent This Royal "Rule" At Her Most Recent Outing As A Duchess
Meghan Markle's fiercely feminist and independent personality has already made her a role model for so many people. Since her engagement to Prince Harry, Markle has made it known that, though she's seamlessly adjusting to royal life, she was going to do things her way, even if they were a bit unconventional. And since marrying Prince Harry last month, Markle has done just that. This is why it probably doesn't come as much of a surprise to anyone that Markle reportedly bent another royal rule, but don't freak out... it's actually totally fine that she bent this "rule."
During their first appearance together at the first day of the Royal Ascot (which is a major horse racing event) on Tuesday, according to People, Markle and Prince Harry looked absolutely stunning walking hand-in-hand in their very dapper outfits. Looking at photos of them, no one would be able to tell that anything is astray. But royal watchers know exactly what to look for and were able to tell that Markle reportedly broke one very strict rule for her dress code, according to Good Housekeeping, which was reportedly put in place by Queen Elizabeth II, aka Markle's grandmother-in-law.
In photos from the Royal Ascot, Markle can be seen not wearing a name tag on her gorgeous white dress, even though Prince Harry is wearing one and her sister-in-law, Kate Middleton, also had to wear one in the past, according to Good Housekeeping.
Only certain people can reportedly get away without wearing a name tag to the Royal Ascot. According to People, the queen and Markle's mother-in-law, Camilla, Duchess of Cornwall, typically don't wear name tags to the event. Even though it's likely that everyone in attendance already knows who Markle and Prince Harry are, they're still required to wear them, according to Town & Country, because they signal "access level" at the event. This means that it lets people know that they're allowed inside of the royal box at the event, rather than just with the general population.
While it's unclear why Markle didn't wear her name tag (probably because she didn't want to mess up that gorgeous dress, in my opinion), she did have it with her. In photos from the event, you can see Markle's name tag resting in her hand alongside her clutch, which means she likely put it on once she was inside the event, as reported by Good Housekeeping.
Although wearing a name tag to the Royal Ascot is reportedly an unstated rule, according to Harper's Bazaar, Markle wasn't alone in not wearing a name tag to the event this year. The queen's daughter, Princess Anne, and the queen's granddaughters, Princess Beatrice and Princess Eugenie, also didn't wear name tags, according to Harper's Bazaar. And while it might be a "rule" to wear these markers, according to Harper's Bazaar, they didn't really break "royal protocol" since protocol only applies to "official, diplomatic, state events."
But even if Markle did "break royal protocol," it wouldn't be the first time she has done so. Markle reportedly broke "royal protocol" two weeks ago during the Trooping the Colour, according to Harper's Bazaar, when she wore a gorgeous blush pink off the shoulder gown that was deemed a little risqué due to how much skin she showed above her shoulders. But even at her wedding to Prince Harry, Markle proved that she would take a unique approach to certain rules and traditions, according to Harper's Bazaar. But this isn't a bad thing, it's really what makes Markle unique.
While it's expected for royal watchers to (literally) be watching Markle's every move to see what rules she follows (and breaks), these small anomalies (like not wearing her name tag on Tuesday) only goes to show how Markle is approaching things with her own unique spin.