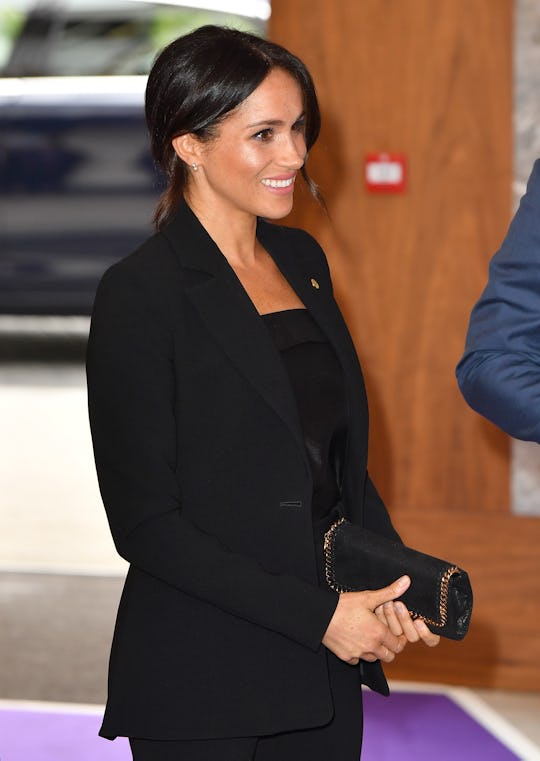 Jeff Spicer/Getty Images Entertainment/Getty Images
Turns Out, Meghan Markle Still Lives A *Totally* Normal Life In London
In May, former Suits star Meghan Markle officially became a duchess after she and husband Prince Harry wed in a romantic royal Windsor Castle ceremony. The transition certainly brought with it some growing pains — in addition to having to learn the intricacies of royal etiquette, the American actress also had to endure upsetting headlines following relatives' tell-all interviews to the tabloid press. But it sounds like she may have actually managed to hold on to at least some of the sanity-saving elements of her former life: Meghan Markle reportedly lives a surprisingly normal life in the UK, and honestly, it's just another reason why she's so darn likeable.
According to People magazine, the newlyweds currently split their time between their Kensington Palace residence, Nottingham Cottage, and their secluded country home in the Cotswolds, and though the two are rarely spotted out in public when they're not on official business as working senior royals, that doesn't actually mean that they live a super sequestered life. The magazine cited royal sources who claimed that Meghan does, in fact, venture out to do normal things, like go to the gym, or make a stop at the grocery store, except she manages to stay largely incognito while doing them.
Though she is set to join her husband on a royal tour to Australia, New Zealand, and Fiji, later this year that will no doubt be full of plenty of royal pomp and circumstance, People reported that she is still able step out from time to time without any fanfare, opting to pop into her local Whole Foods, for example, while wearing a baseball cap. And on Wednesday, CBS Miami reporter Lisa Petrillo shared a photo of what appears to be the duchess walking her dog just outside of Kensington Palace.
In the pic, the Meghan-lookalike was dressed casually in black — and, yep, wearing a baseball cap — and it certainly seems like it could be her. But according to Haper's Bazaar, palace aides dismissed the story officially, and royal commentator Omid Scobie told the outlet, "Right time, right place, but I'm afraid it's not the Duchess in that photo."
Regardless, it's not exactly a stretch to think that Meghan would find a way to still live a normal life — including walking her dogs — despite her new role in the royal spotlight. After all, when Meghan was first thrust under the microscope following rumors of her relationship with Prince Harry, it became clear that, even as a successful actress, she still lived a totally down-to-earth existence in her adopted city, Toronto.
For one, the duchess rented a fairly modest home in a low-key residential neighborhood, and was often spotted doing totally normal-person things, like walking to the grocery store, or heading to her local yoga studio. But not only did she manage to have secret visits with the prince at her home during their long-distance relationship — according to Toronto Life, Prince Harry once made a pit-stop in the city to see his then-girlfriend on the way home to the UK following a royal tour in the Carribbean — but they also famously made their public debut as a couple at the 2017 Invictus Games, which was held in Toronto.
Even in London though, she still seemed to be able to fly under the radar: according to Entertainment Tonight, while she and Prince Harry were dating, she was spotted at the aforementioned Kensington Whole Foods, picking up groceries for the homemade meals she and the prince cooked together at Nottingham Cottage leading up to their engagement (the two famously roasted a chicken together, for example, the night Prince Harry actually popped the question).
Given that it's also not entirely unheard of to see royals doing everyday tasks out in public during their downtime though — Catherine, the Duchess of Cambridge, was also spotted at her local grocery store many times following her 2011 wedding to Prince William — the idea that Meghan has carved out a private life for herself as a duchess isn't really that surprising at all.
Although part of living as a royal is accepting that the public's fascination with your life will more or less always be intense, Meghan seems to be handling that burden pretty well. And though she might easily be able to live a fairytale life hidden away in lavish royal residences if she so chooses, it sounds like she's once again opting to live as normal a life as she possibly can.