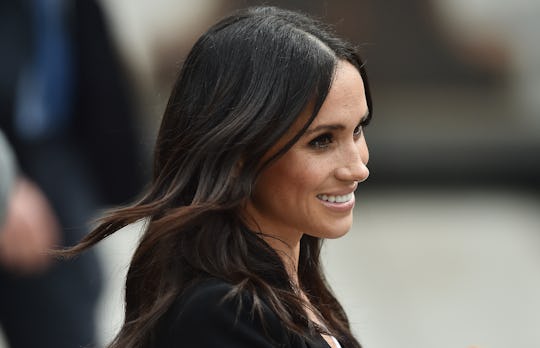 Charles McQuillan/Getty Images Entertainment/Getty Images
You Can Stop Wishing Now, Because Meghan Markle Reportedly Won't Be At The 2018 Emmys
When American actress, Meghan Markle, married into the British royal family this past May, she had to give up a lot of things, including her acting career. For years, Markle had starred on the drama, Suits, as Rachel Zane, but left the show this past year to start her new, royal life. So, it's understandable that the Duchess of Sussex might want to leave that past of glitz and glamour behind her, which also seems to mean that Markle won't be at the 2018 Emmys this fall, as The Sun reported.
Markle reportedly "politely" turned down an invitation to this year's Emmy Awards, according to The Sun, which is taking place on Sept. 17 in Los Angeles, California. Sources reportedly told The Sun that Markle was invited to celebrate one of the biggest nights in television "and even present an honor."
This year, Markle isn't nominated for an Emmy Award, according to the Emmys, and her former TV show, Suits, which she starred on for seven years, isn't nominated for any Emmys in any of the categories this year, either. So, it would make sense for her to decline an invitation to attend the award show, as news reports suggest, since she wouldn't be potentially accepting an award or support her former cast mates.
Although Markle is proud of her acting career, she has moved on to a new role — doing charity work and official royal appearances with Prince Harry. During her first televised interview with Prince Harry after their engagement, Markle stated that she was happy to have a "change" in her career and embark on this "new chapter." Markle said, according to TIME:
Also, keep in mind I have been working on my show for seven years. So we were very, very fortunate to be able to have that sort of longevity on a series. For me, once we hit the 100 episode marker, I thought, you know what, I have ticked this box, and I feel very proud of the work I had done there and now it's time to work as a team with [Prince Harry].
Since her engagement and getting married, Markle has worked as a team with her husband, making official royal engagements with Prince Harry and even cheered him on during a charity polo event late last month, according to Entertainment Tonight. Needless to say, it seems like she has adapted and is enjoying her new role.
As she said in the interview, Markle is proud of the work she had done on Suits — which she made very clear when she invited the cast of the show to her wedding ceremony in May, according to Town & Country. Rick Hoffman, who plays Louis Litt on Suits, told Harper's Bazaar that the wedding was an incredible experience for the cast who were able to be there to support Markle in her new role. "The wedding itself, her walk into that church — otherworldly," Hoffman said, according to Harper's Bazaar. "And the time we spent as a cast and crew was so warm and familial and really bonded us more." So, no hard feelings there.
Some people thought that Markle might have been nominated for an award this year, after she was submitted to be considered for an Emmy for her role in Suits in the category for Outstanding Supporting Actress in a Drama Series, according to Harper's Bazaar. This made her "the first royal to be submitted for Emmys consideration." But, as previously stated, Markle didn't get the nomination and was considered to be "snubbed," according to Fox News.
Although Markle has never been nominated for an Emmy Award during acting career, according to Harper's Bazaar, there is one member of her family who has won an Emmy Award. Markle's dad, Thomas Markle, won two Daytime Emmy Awards for his work as a lighting director on the daytime soap opera, General Hospital, according to Fast Company, and was nominated for an Emmy Award for his lighting work at the 58th Academy Awards.
Although Markle reportedly won't attend this year's broadcast of the Emmy Awards, it's clear that she has nothing but nice things to say about her former career as an actress and is proud of it.