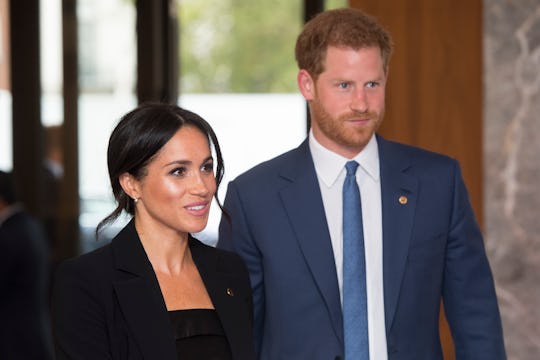 WPA Pool/Getty Images Entertainment/Getty Images
Meghan Markle's "Something Blue" Has A Connection To Her First Date With Harry
Though it would seem that everything there is to possibly be known about the royal wedding has been thoroughly discussed, dissected and photographed to the point that no detail could have gone missed, well, one small thing did. When you're the center of such a highly publicized event, one that's so imbued with meaning and sentimentality, it's important to find ways to make sure that the day still feels yours in some way, and that's exactly what the newest Duchess did. Meghan Markle reveals the "something blue" she wore to marry Prince Harry, and it's actually a really sweet story with an important connection to their relationship.
People reported that in a preview from the new HBO documentary Queen of the World, which is not yet released, Markle opened up about how she incorporated "something blue" into her wedding attire. (For those unfamiliar, some believe it is tradition for the bride to wear something old, new, borrowed and blue on her wedding day.) "Somewhere in here there's a piece of blue fabric that's stitched inside," Markle explained about her veil. "It was my something blue." But that's not even the most significant part of it. As it turns out, that piece of fabric is from the dress that she wore on their first date. (Cue the tears.)
However, that wasn't the only secret meaning that her famous 16 foot long veil held. Town and Country reported back in May that it was actually conspicuously designed with hidden messages and meanings.
As it turns out, the perimeter of Markle's veil was covered in a floral embroidery, but it wasn't just any random pattern or design. "Ms. Markle expressed the wish of having all 53 countries of the Commonwealth with her on her journey through the ceremony," the magazine reported Kensington Palace tweeted after the wedding. "Ms. Waight Keller [the designer] designed a veil representing the distinctive flora of each Commonwealth country united in one spectacular floral composition."
Markle acknowledged the embroidery again in the documentary, saying: "It was important for me, especially as a part of the royal family, to have all 53 of the Commonwealth countries incorporated... And I knew that it would be a fun surprise as well for my now husband, who didn't know."
Now that the couple has settled into married life, attention has turned toward whether or not a few more princes or princesses will be joining the family.
Though it may seem invasive to wonder about such a personal matter, Markle and Prince Harry have actually been very open about their desire to have kids sooner rather than later. "I've longed for kids since I was very, very young," Us Weekly reported Harry told ABC News in May 2012. "I'm waiting to find the right person, someone who is willing to take on the job." In 2015, he reiterated the sentiment, telling Sky News: "Of course, I would love to have kids right now, but there is a process that one has to go through. It would be great to have someone else next to be, but the time will come. Whatever happens, happens."
For now, the couple has been enjoying traveling together (HELLO! reported yesterday they just went on a trip to Amsterdam together) as well as returning to their royal duties. ELLE reported that the couple returned to work in June, just a few weeks after their nupitals.
Though the wedding of the year has come and gone, it's amazing to learn of new details that are still being revealed. Fortunately, we've got an entire lifetime with the Duke and Duchess of Sussex to swoon over their IRL fairytale.