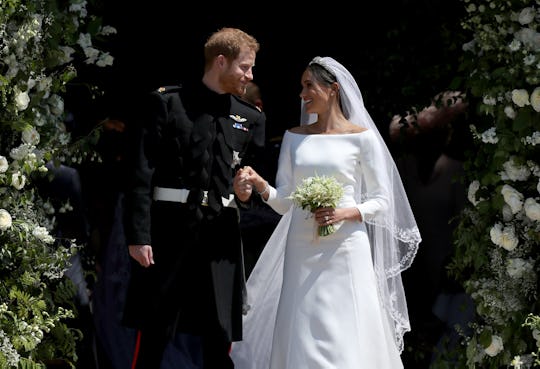 WPA Pool/Getty Images Entertainment/Getty Images
Welsh Gold Is The Newest Wedding Band Trend, All Thanks To Meghan Markle
Even before her 2011 wedding to Prince William, the public's interest Catherine, the Duchess of Cambridge meant that pretty much anything she wore would sell out immediately (remember her blue Issa engagement dress?). So given that the world is now similarly low-key obsessed with Meghan, the Duchess of Sussex, it's not surprising to hear that she also has a magic touch. But it's not just her clothing: Meghan Markle has sparked a wedding band trend thanks to her very-royal welsh gold band, and it sounds like it's working out pretty well for local jewellers.
In the hours leading up to Meghan's Windsor Castle wedding to Prince Harry, Kensington Palace confirmed some additional details about the ceremony, including the particulars of the rings they'd be exchanging. As with Meghan's engagement ring, the couple's bands were created by Cleave and Company, and though Prince Harry's band was made out of platinum with a "textured finish," Meghan went for full-on traditional, opting for a simple band made from a piece of Welsh gold gifted to the couple by Queen Elizabeth II.
In doing so, Meghan became the latest in a long line of royal brides to receive a Welsh gold band on her wedding day, but Welsh jewelry company Clogau recently told People that it's meant Welsh gold wedding bands have become more popular in general — and said that the royal wedding "definitely [gave their] business a boost."
Clogau's website notes that the royals have been using Welsh gold for their wedding bands as far back as 1923, when Lady Elizabeth Bowes-Lyon (aka The Queen Mother) married King George VI. Her wedding ring came from a nugget of Welsh gold that was later used to create the wedding bands for Queen Elizabeth, Princess Margaret, Princess Anne, and Diana, Princess of Wales, according to Kensington Palace, though these days, all that's left is "a minute sliver" of gold, kept by the Privy Purse Office.
Even if you aren't vying for a Welsh gold ring from the Queen's gold collection though, it turns out that Welsh gold is quite rare. According to Wales Online, gold isn't actually mined in the country anymore, and it means that eventually, the Welsh gold that is available could run out. Luckily for Meghan, the Queen's stockpile was replenished in Nov. 1981: according to Kensington Palace, the Royal British Legion presented the Queen with 36 grams of Welsh gold, and she's since used it to have wedding bands made for for Sarah, the Duchess of York in 1986; Camilla, the Duchess of Cornwall in 2005; Catherine in 2011; and now Meghan earlier this year.
The upside for royal fans? Clogau offers a workaround to the challenge of a limited gold supply: while Meghan's ring is made of solid Welsh gold (the perk of having the Queen as your grandmother-in-law), Clogau wedding bands include only a small amount of Welsh gold, which makes it much more accessible for most non-royal brides. (Their $300 Windsor Wedding Ring also happens to look quite similar to the one Prince Harry slipped on Meghan's finger on their wedding day.)
As much as Meghan may be responsible for a renewed interest in Welsh gold though, it's Prince Harry's wedding band that actually made a pretty big departure from royal tradition. Unlike his father, Prince Charles, and his brother, Prince William, Prince Harry actually wears a wedding band. When Prince William and Catherine tied the knot, he gave her a ring, but opted out of getting one himself, according to Harper's Bazaar, and though Prince Charles does reportedly wear a ring, he appears to wear it only on his pinky finger.
Given that pretty much everything about Meghan's wedding to Prince Harry was totally swoon-worthy, it's not surprising that people are eyeing Welsh gold rings now that she has one. But, let's be honest: unless it came from a lump of the Queen's personal gold, and was given to you by a British prince, it's still not exactly going to be the same thing.