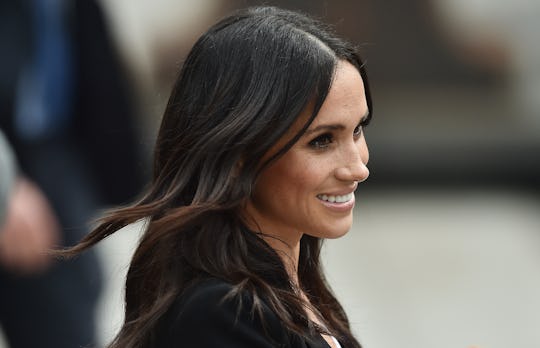 Charles McQuillan/Getty Images Entertainment/Getty Images
Here's What Meghan Markle Supposedly Misses About Pre-Royal Life
Almost two months ago (doesn't time fly?) Meghan Markle, Duchess of Sussex, married Prince Harry, Duke of Sussex, at St George's Chapel, Windsor Castle. And now that Meghan is officially a member of the royal family, she has been busy fulfilling the many duties of her new role. From jetting off to Ireland on Tuesday to meet with key leaders to attending the baptism of Prince Louis on Monday, Meghan is one busy lady. But does Meghan long for her pre-married days now that she's in the thick of royal life? As it turns out, Meghan Markle reportedly misses her time on Suits. Meghan's nostalgia for the show makes perfect sense when you consider there's a very small chance she'll ever get to act again.
Meghan starred on Suits, a legal television drama series, for a whopping seven years. It's completely understandable Meghan might feel a bit wistful for the show, a theory a fan named Fiona Moore supposedly confirmed on Wednesday. Moore, who watched the show, reportedly got Markle to reveal her longing for it when they chatted in Dublin. The conversation went down because Meghan was in the area enjoying a "walkabout" with Prince Harry, and she was kind enough to talk with a few bystanders during the event.
"I'm a fan of Suits and I said to her that I miss it and she said 'so do I'," Moore claimed about the convo, according to Hello! magazine.
Aww. If Meghan did confess to missing Suits, I don't think anyone would be surprised. Meghan was incredibly close with her Suits co-stars, and she invited key members of the cast to her spectacular nuptials in May.
Patrick J. Adams, Meghan's co-star and love interest on the show, summed up the pair's bond perfectly. Adams explained, according to Us Weekly:
" ... In some ways, Meghan and I were the closest because we were the youngest people in the cast and both came in with the least experience. We grew up together over the course of the show. There was this natural sense that we both knew that the time had come for both of us. It went unspoken and we just enjoyed the hell out of the last few episodes that we got to shoot. We both knew that we wouldn't be coming back. It made every one of our scenes that much more special. We had a great time ... "
Not to mention, leaving Suits marked the end of an era for Meghan. For a long 16 years (her first role was on General Hospital in 2002), Meghan was known as an actor, a title she worked hard to earn.
But don't assume Meghan is ugly crying somewhere over the loss of Suits, because in November 2017, Meghan described the departure as a welcome change. Meghan explained, according to E! Online:
I don't see it as giving anything up. I just see it as a change.It's a new chapter, right? And also, keep in mind, I've been working on [Suits] for seven years. We were very, very fortunate to have that sort of longevity on a series ... I've ticked this box, and I feel very proud of the work I've done there, and now it's time to work with [Harry] as a team.
It sounds like Suits is Meghan's version of college. While Meghan gets wistful for that period in her life sometimes, it doesn't mean she'd ever go back to it. You can miss something from afar. And if Meghan ever gets really nostalgic, she can always watch old episodes on Netflix with Prince Harry by her side. Sounds like the perfect date night to me.