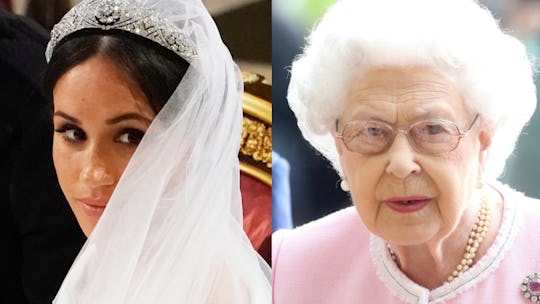 WPA Pool/Getty Images Entertainment/Getty Images/ Chris Jackson/Getty Images Entertainment/Getty Images
Meghan Markle Could Be Taking A Road Trip With The Queen For Their First Royal Outing Together
What snacks to pack and what music to include on the playlist for a road trip with the queen? That's probably what I would be thinking right now, but the Duchess of Sussex surely has more important matters on her mind. The announcement of Meghan Markle and the queen's first royal outing together comes with bigger questions, like what to wear and how to get the monarch to spill all her best stories about Prince Harry?
The trip will be Markle's first official royal outing without Prince Harry by her side, according to Harper's Bazaar. Instead she will be alongside the queen as they make several stops listed in the schedule on the royal family's website. They'll head to Cheshire to open the Mersey Gateway Bridge, open the Storyhouse Theater in Chester, and attend a lunch at the Chester Town Hall, according to the royal diary on the site.
Harper's Bazaar pointed out that the theater opening is notable given Markle's career as an actress. She majored in theater at Northwestern University and, starred in USA Network's show Suits for seven seasons, according to her bio on the royal family's website. With the queen, Markle will meet some of the performers at the theater, according to Harper's Bazaar.
People called the outing "a road trip" (as did Vanity Fair) so, assuming they're not flying, as traced on Google Maps, the route from Windsor Castle to Cheshire is about 183 miles, or just over three hours by car. Chester is just 13 miles beyond that, a trip of about 35 minutes. That's sounds like a long time to have to remain proper and on your royal game in front of the queen, but for Markle this is also a great chance to get to know her new grandmother-in-law, hear plenty of interesting stories and get all the advice about being a royal that she could possibly want.
Markle has spent time around the queen before. She and Prince Harry had a private tea with the queen last October, according to Town & Country. And she's joined other members of the royal family for events like the Commonwealth Day Service and the queen's Christmas lunch, according to Harper's Bazaar. The magazine also noted that she was included in the queen's private holiday visit to her estate in Sandringham.
Queen Elizabeth obviously has a soft spot for her grandson and his new wife. In a photo taken during the queen's private audience with the Australian high commissioner to the United Kingdom, George Brandis, people noticed a sweet photo of Prince Harrry and Markle which adorned the background. It makes the historic setting of Buckingham Palace feel just like any grandmother's sitting room.
Markle's first appearance as the Duchess of Sussex came just three days after the wedding, when she was beside Prince Harry for an event celebrating the 70th birthday of Prince Charles, according to Town & Country. Markle looked the part of a prim new royal bride until a bee buzzed by Prince Harry while he was giving a speech. She had to cover her mouth as she let out a laugh before explaining to the Duchess of Cornwall, Camilla Parker-Bowles, and Prince Charles what it was that distracted the prince, as Town & Country reported.
This won't be the first time Queen Elizabeth has spent alone time with one of her grandchildren's spouses. Harper's Bazaar noted that the Duchess of Cambridge, Kate Middleton, also did a solo visit to Leicester with the queen following her wedding. There are no reports of the queen traveling with her son's wife, Camilla Parker-Bowles, however. A new book about Prince Charles chronicles what can only be described as a rocky relationship between the queen and Bowles, according to E! News.
It's great to hear that Markle and the queen are starting off on good terms though. Here's hoping they make lasting memories on this royal outing together, and perhaps they'll share a tidbit or two from what could be one epic road trip.