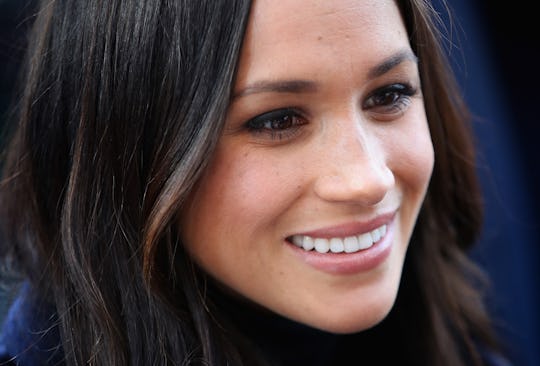 Chris Jackson/Getty Images Entertainment/Getty Images
This Part Of Meghan Markle's Royal Training Is *Really* Intense, But So Useful
While her engagement was only just announced, a certain American actress has been ruling the media and news reports lately. Yes, you read that headline correctly. Meghan Markle will reportedly get hostage training after she marries Prince Harry, because marrying into the royal family also means becoming even more of a badass. Although the months, weeks, and days leading up the next royal wedding are sure to be busy for the 36-year-old, there's one thing in particular on her to-do list that sounds pretty freaking awesome and really intense.
Yes, it seems that there's more to being a royal than customizing your own perfect wave and laughing good-naturedly for the camera. Indeed, as TMZ reported, Markle — just like Kate Middleton and even Princess Diana — will be taught what to do in a hostage situation. According to TMZ, Markle will be trained by the British Special Air Service in what, exactly, to do if she happens to be taken hostage, and how to communicate with someone if she's being held against her will. Specifically, according to TMZ:
Meghan's training will include mastering micro-expressions, key words and other signals to let either her family or law enforcement know if she's under duress from captors. We're also told she'll get some basic psychology training on dealing with her captors.
Of course, this training after her big day is in addition to all the other things Markle has going on before the wedding at St. George's Chapel in Windsor, England. Additionally, according to Entertainment Tonight:
Markle intends to travel for the next couple of months, visiting her family and friends before she settles into her new life at Kensington Palace.
Clearly, Markle has a busy few months ahead of her. But her hostage training is of particular importance in addition to learning all the royal mannerisms and protocol. According to W Magazine, Markle was receiving some unofficial princess training from Prince Harry back in October.
And part of that "princess training" includes how to address the Queen."[Prince Harry] calls her 'Granny,' but after Meghan had curtsied and called her 'Your Majesty,' she would have reverted to 'ma'am,'" royal writer Katie Nicholl explained in W Magazine. "It seems strange to mere mortals, but it is how [Princess] Kate addresses her."
But that's not all Markle will be learning. According to W Magazine, Ingrid Seward, editor-in-chief for Majesty magazine, explained that "American manners are different than British manners," adding, "[She] can't walk down the street eating or chewing gum. We hold our cutlery differently. It's a whole different culture." Obviously, hostage training will be a bit more exciting than learning how to hold her silverware the right way, but both are important for someone marrying a prince to know.
Markle will also be stepping back from her acting career, something the future duchess is looking forward to, it seems. Speaking with the BBC after the couple's engagement announcement, Markle said:
I think what's been really exciting ― as we talk about this as the transition out of my career ― is that the causes that have been very important to me, I can focus even more energy on.
Not only will Markle know how to handle herself in the case of a hostage emergency, but it seems as though that she'll also be spending a lot more time doing charity work and giving back to the causes she cares the most about. Basically, she's living quite the dream, and she seems perfectly suited to do so.
Even though, of course, I would hope that Markle would never find herself in any sort of hostage situation, it is a bit reassuring that she'll at least know what to do if that does happen to be the case. Even if that means breaking out of zip ties.
Check out Romper's new video series, Romper's Doula Diaries:
Watch full episodes of Romper's Doula Diaries on Facebook Watch.