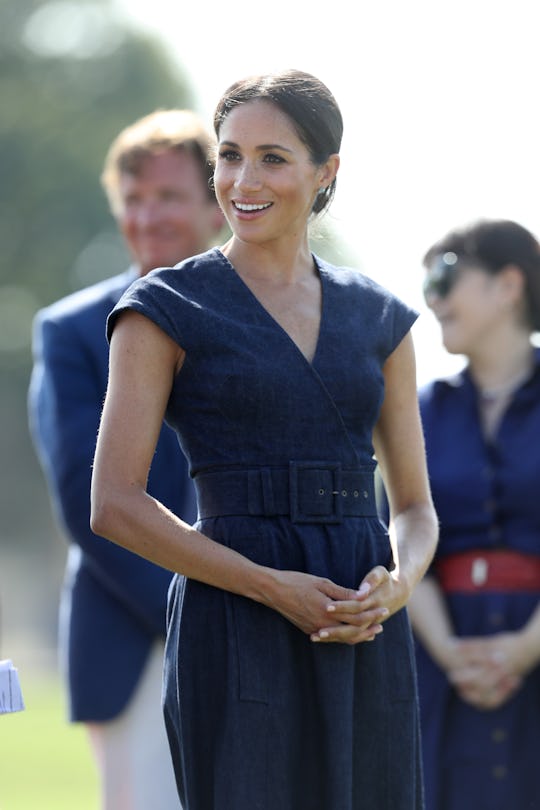 Chris Jackson/Getty Images Entertainment/Getty Images
Meghan Markle & Kate Middleton Both *Love* This Affordable Brand
The Duchess of Sussex, Meghan Markle, arrived at the Sentebale Polo Cup on Thursday looking every bit as glamorous as you'd expect from the international style icon. But while a princess attending a polo match sounds incredibly posh, Meghan Markle accessorized her outfit with an affordable clutch and it's actually on sale now. I think it's safe to say her status as the new People's Princess has been solidified with this accessory choice.
Markle donned a J. Crew fan rattan clutch, made from classic straw and featuring a leather closure. Originally priced at $88, the J. Crew clutch is now marked down to just $59.99, and surprise, surprise, it's already sold out. Markle paired the clutch with a crisp, belted denim dress, from Carolina Herrara, tan Aquazzura pumps, and Tom Ford sunglasses, according to Elle. She looked impeccable, but it wasn't just her ensemble that was on display. Markle and Prince Harry shared an affectionate kiss at the trophy presentation at the match, according to Vanity Fair.
Markle attended the charity event to cheer on Prince Harry as he competed in the match, all to benefit Sentebale, the organization he co-founded to "[help] the most vulnerable children in Lesotho, many of whom are orphans due to HIV/AIDS and are affected by the diseases themselves," accroding to ABC News. Sentebale was also a way for Harry to honor his late mother, Princess Diana, who was one of the first public figures to raise awareness about the disease, according to the same ABC News article.
The newly appointed Duke and Duchess of Sussex seem to be committed to giving back, and staying grounded. With all the royal resources at her disposal, Markle could have chosen any designer handbag, so her J. Crew clutch selection speaks volumes about her genuine, down-to-earth style.
It also might signify that she's taking a page from Kate Middleton's playbook. Middleton, known for rewearing outfits, also regularly mixes designer clothes with affordable retail staples like Zara and J.Crew, reported Glamour. In fact, when Kate wore a pair nautical sailor pants, and heels, both from J. Crew, to an event in 2017, it caused the store to sell out of both immediately, something credited to the "Kate Effect," according to the same Glamour article.
That potent fashion influence is something Markle and Middleton share in common. Both women became instant fashion sensations when they dazzled the world with their respective wedding dress selections. Markle's stunning Givency gown was inspiring knockoffs within days, according to The Cut. And Middleton's Alexander McQueen dress appears to still be impacting wedding dress styles, years later. "[Th]e main style elements that Kate's wedding dress embodied—that is, dramatic trains, deep V-necks, long sleeves, and lace detailing—were among our favorite details during Spring 2017 Bridal Fashion Week," explained Terri Pous for Brides.
Even the royals' hair can start international trends. Markle's "messy bun" — a variation of which she wore to the July 26 polo match, is regularly making headlines and spawning YouTube video tutorials.
Something tells me the "The Meghan Effect" is here to stay.