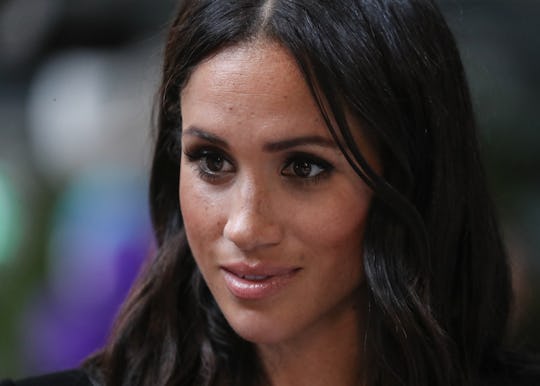 Pool/Getty Images Entertainment/Getty Images
Meghan Markle's Birthday Celebrations Before She Became A Royal Are A Mystery
Happy birthday, Meghan Markle! In case you haven't heard, the Duchess of Sussex celebrated her 37th birthday on Saturday, Aug. 4 — and it's the first (of hopefully many) since marrying Prince Harry and officially joining the royal family. Needless to say, her big day is bound to be extra special this time around, even if it is probably a bit different than how she's celebrated in the past. Markle is a royal now, after all, which comes with a strict set of rules about everything from what she's allowed to wear, to being on social media, to always having security nearby, and more. When it comes right down to it it, though Meghan Markle's birthday celebrations before she became a royal are somewhat of a mystery.
Last year — before she was even engaged to the younger brother of Prince William (can you believe it?) — Markle celebrated her birthday in Africa with her ginge-haired, royal boyfriend, Express reported. According to the publication, Markle and Prince Harry were spotted one day after her birthday walking across the airport, heading off to a safari trip in Africa. "Harry has been planning this holiday for a long time," a royal source said at the time. "He's made the trip incredibly romantic. They'll go on boats across the lake, walk in the bush at dawn and camp under the stars." The source continued:
Harry regards Africa as his spiritual home and has often talked of how he can get away from it all there. Who knows what will happen when they're watching a sensational African sunset together? Maybe he'll get down on one knee.
Ultimately, Meghan and Harry didn't end up getting engaged on this particular trip. However, he low-key popped the question sometime in November, and the couple announced their happy news later that month, Cosmopolitan reported. But seriously. Can you imagine how special it would have been to get a royal proposal on her birthday? Never mind that any other gift after that would be lame in comparison ... So yeah, perhaps that's why Prince Harry held off for a couple more months.
This year, the Duke and Duchess of Sussex celebrated Markle's big day a bit differently — with a wedding! Of course, they're already married. However, they attended the wedding of one of Harry's oldest friends, Charle van Straubenzee, who married Daisy Jenks in Surrey on Saturday, People reported. Prince Harry reportedly had usher duties at the wedding, while Markle was spotted wearing a navy shirtdress with an olive, pink, and white skirt and a matching hat.
As for how the former Suits actress has celebrated birthdays in the past — you know, before she got involved in the royal scene — that's a bit tougher to say. This is largely because Markle's social media accounts were shut down earlier this year before the royal wedding, The Independent reported. (And her lifestyle website, Tig, was shut down in April 2017, while she and Prince Harry were still only dating, according to Vogue.) So unless the Duchess of Sussex specifically recounts how she's spent her past birthdays, it's not like fans can scroll through her Instagram posts and check it out for themselves.
Still, Markle did share one birthday tradition on her lifestyle website before it was shut down — and it was inspired by her mother, Doria Ragland. "My mum has always said that birthdays are your own personal New Year," Meghan wrote in 2016, according to Elle. "Your own chance to make resolutions just for yourself and what you prognosticate for your year ahead." Her birthday wish goes like this:
More surprises, more adventure, more opportunities to grow, more days filled with giggles and cheeky jokes, more delicious meals, and more inspiration. Always more inspiration.
It's powerful AF, right? Although Markle will be sharing her special day with friends at a another couple's wedding, perhaps the Duke and Duchess of Sussex might still have a chance to celebrate more intimately this weekend. And of course, I'm sure there will be plenty of reflection and resolutions of sorts for the year ahead. Who knows? Maybe by the time Meghan Markle celebrates her next birthday, they'll be a royal baby on the way!