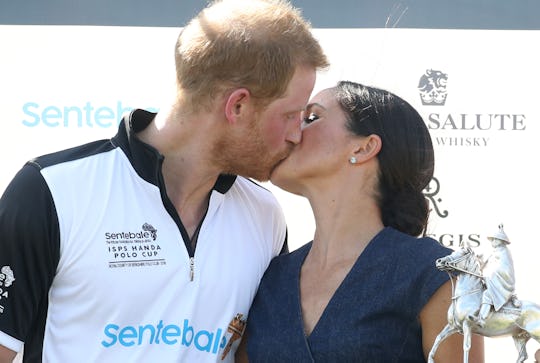 Chris Jackson/Chris Jackson Collection/Getty Images
Meghan Markle's Dad Predicts She'll Be Pregnant In A Year, & He Won't See The Baby
in the weeks leading up to the royal wedding, the world was first introduced to Meghan Markle's father, Thomas Markle. Although the Duchess of Sussex's dad initially made headlines for staging a paparazzi photoshoot of himself "preparing for his daughter's wedding," for the most part, he has remained a sympathetic character in the whole narrative. (This probably has a lot to do with the fact that Thomas ended up missing the wedding because of heart surgery.) However, in the months since his daughter said, "I do," he has continued to publicly embarrass Meghan through continued interviews with the press. Most recently, Meghan Markle's dad predicts she'll be pregnant in a year — and he won't get to see the baby.
In an article published Saturday by the Daily Mail, Thomas Markle had some pretty harsh words for his now estranged daughter. "I'm really hurt that she's cut me off completely. I used to have a phone number and text number for her personal aides at the Palace, but after I said a few critical words about the Royal Family changing Meghan, they cut me off," Thomas told the publication. 'Those numbers were disconnected, they no longer work. I have no way of contacting my daughter."
Markle continued:
What's sad is that some time in the next year Meghan and Harry will have a baby and I'll be a grandfather, and if we're not speaking I won't see my grandchild. How tragic is that, to deprive a child of its grandfather because I said a few things critical of the Royal Family?
During his first interview since missing the royal wedding on May 19, Thomas Markle had previously opened up about his thoughts on a royal baby timeline. "She's wanted children for a long time and when she met Harry and how much she loved him, there's got to a be a child soon," Markle told Good Morning Britain in June, The Sun reported. "I don't think the stork has hit the air yet but it'll happen sooner or later." This remark, apparently, is what Thomas Markle believes led to his daughter deciding to cut him out of her life.
However, the the 73-year-old made himself perfectly clear; he's not shutting up anytime soon. "I tell you, I've just about reached my limit with Meghan and the Royal Family. They want me to be silent, they want me to just go away. But I won't be silenced," he told the Daily Mail. "I refuse to stay quiet. What riles me is Meghan's sense of superiority. She'd be nothing without me. I made her the Duchess she is today. Everything that Meghan is, I made her." (Um, what?!)
Granted, I don't personally know Thomas or Meghan Markle. But it appears to me that if Thomas wants any chance of reconciling with his daughter, then he seriously needs to stop giving these "tell all" interviews — because he seems to be only making things worse with his daughter. And I'm not the only one who thinks so. One Twitter user recently wrote, "We cannot presume to know what goes on in anyone's family & I'm always in favor of reconciliation if possible, but as Thomas Markle continues to publicly humiliate his daughter, reconciliation seems ever more unlikely & frankly who could blame her?!"
Another person tweeted, "Maybe if he shut his mouth and stopped blabbering to the press they'd welcome him into the fold."
Yet another Twitter user wrote, "I'll give Thomas Markle my cottage in Mustique if he stops talking to the press." (LOL!)
Look, I felt sorry for Thomas Markle when he staged a photoshoot with paparazzi in an attempt to improve his public image, and it ended up backfiring, according to the Independent. And I was completely heartbroken for him at the time when having heart surgery prevented him from attending the royal wedding, as People reported. But I think I speak for plenty of Meghan Markle fans when I say this: Just stop while you're behind, dude. Stop the interviews. Stop publicly criticizing your own daughter and the royal family. Just stop. Perhaps after the dust settles, Meghan will be willing to give her father another chance to prove himself. Until then, Thomas' media circus is likely a self-fulfilling prophecy. Because at this rate, he's probably right — his chances of having a relationship with any potential grandchildren are looking pretty slim these days.