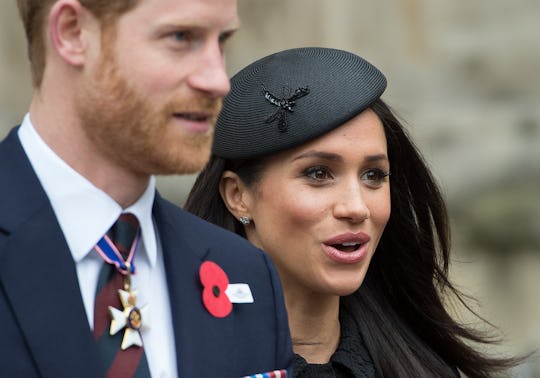 WPA Pool/Getty Images Entertainment/Getty Images
Meghan Markle's Dad Reportedly Won't Be Walking Her Down The Aisle After All
Pretty much everyone and their grandmother knows how big of a deal the upcoming royal wedding is. While it might not be as large of a celebration as the 2011 royal nuptials, Prince Harry's wedding is still super important. And with the event just days away, many are wondering who will be there. And interestingly enough, it seems as though Meghan Markle's dad reportedly won't attend the royal wedding. And there's a reason for that.
But in order to understand that, you need to understand a few more things first. So, remember those pictures that circulated the internet back in early April of Markle's dad reportedly reading a book about England. Specifically, the photographs showed Mr. Markle looking at a copy of Images of Great Britain: A Pictorial Tour Through History, according to Elle.
Yeah, those.
Well, it turns out that those photos weren't exactly as authentically adorable as it first seemed. As The Daily Mail reported, it seems as though Markle's dad "secretly collaborated with a British paparazzi photographer to stage a series of pictures." And after all of this was discovered, Markle's father reportedly has a heart attack mere days before the wedding, TMZ reported. And it seems as though after all of the fallout, Markle's dad, Thomas, has made the decision not to attend the royal wedding or walk his daughter down the aisle as was previously announced per People.
Yes, unfortunately, it appears as though there's plenty of drama surrounding the upcoming royal wedding, at least where Markle's father is concerned. After leaving the hospital following his heart attack, Mr. Markle opened up to TMZ about what went on in his head when he decided to stage those paparazzi photos. According to TMZ, Markle explained that "he's been ambushed by paparazzi who have photographed him in the most unflattering circumstances ... buying beer, looking disheveled and reclusive." So, he decided to try and make the coverage surrounding him look a little more flattering.
But it didn't really go as planned, and now the father of the bride-to-be is realizing that his actions have even more consequences than he originally had thought. "He's now decided not to go because he doesn't want to embarrass the Royal Family or his daughter," TMZ reported. As unfortunate as this news is, it doesn't mean that the upcoming royal wedding will be any less fabulous. After all, it's a royal wedding, y'all. Things are sure to get fancy.
Of course, these are all reports, and Mr. Markle could end up attending the event on Saturday. Considering the fact that his daughter is getting married, it would be understandable if the 73-year-old changed his mind and wanted to be there for her. Even if he doesn't walk Markle down the aisle, the father of the bride might still make an appearance on his daughter's big day.
Additionally, if Mr. Markle isn't the one escorting the former actress down the aisle, it isn't as if she's out of options. As previously reported, Markle may very well want her mother to walk her down the aisle. As a source told Us Weekly back in January, the former Suits star and Prince Harry might want to mix things up when they tie the knot. "I've heard that Meghan wants her mother to walk her down the aisle, which would be a sweet moment," the source said. So, maybe Mr. Markle won't be in attendance on the big day, but maybe Markle is OK with that. At the end of the day, it's her wedding, and she should be as stress-free and happy as possible.