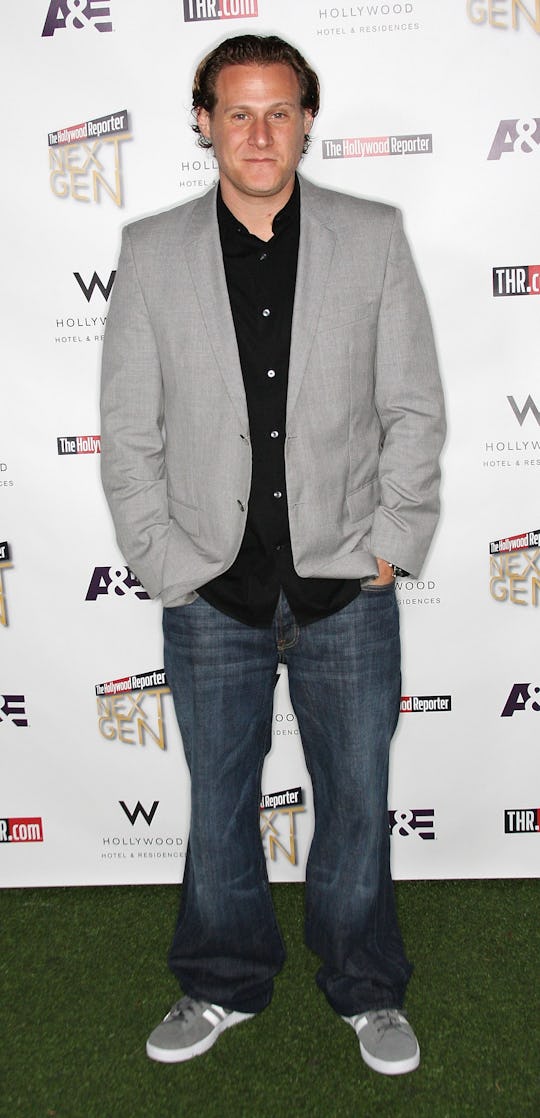 Frederick M. Brown/Getty Images Entertainment/Getty Images
Meghan Markle's Ex-Husband Trevor Engelson Is Engaged To Tracey Kurland
When Meghan Markle and Prince Harry first became an item, one "scandalous" detail about her past shocked the world: She had previously been married. *Gasp!* Not only was Markle a biracial American commoner, but she was also a divorcee. Clearly, she wasn't your average royal suitor. On May 19, Markle officially became the Duchess of Sussex when she tied the knot with Prince Harry. But what ever happened to her first husband? Well actually, news broke on Tuesday that Meghan Markle's ex-husband Trevor Engelson is engaged to Tracey Kurland.
Cosmopolitan reported that the 41-year-old film producer shared the big news on his private Instagram account on June 1. (So unless you're one of his lucky 1,700 followers, unfortunately you can't see the post.) However, Cosmopolitan reported that Engelson shared a photo of himself and his dietician fiancee, and it featured her left hand resting on his shoulder — perfectly showcasing her diamond engagement ring. He captioned the post, "Luckiest guy I know! Get ready to party!" (Aw!) It appears Engelson has indeed found love again. As a refresher, Markle and Engelson started dating back in 2004, Us Weekly reported. The pair eventually married in September, and then low-key separated nearly two years later in August 2013. They cited "irreconcilable differences" for the motivation behind the split.
Apparently, Engelson's divorce from Markle wasn't an easy one to digest. "The split with Meghan hit Trevor pretty hard," a source told The Sun in November, "He went through a rough time during the break-up and that was only made worse when Meghan got together with Harry last year." The source continued:
He had to re-live it all again — this time in public. It wasn't the most amicable of divorces and there were hurt feelings on both sides. Now he has bounced back and things are looking great for him ... He has a new woman in his life and his career is going from strength to strength.
Although not too many details are known about Markle and Engelson's seven-year relationship and subsequent divorce, the film producer briefly dated another familiar face. In April, Real Housewives of New York City star Bethenny Frankel revealed that she had once dated Engelson. "I met this guy as a romantic interest. His name is Trevor," Frankel said on the Kyle and Jackie O Show, Us Weekly reported. "I met him in Chicago and we were supposed to go out, and I ended up seeing him one time and he'd been texting me. She continued:
He's a producer in L.A. He told me that he was married before. He's divorced [now]. He was married to this girl named Meghan Markle from the TV show Suits.
Frankel added that when she found out Markle was dating Prince Harry, she told Engelson, "Holy s–t! Your ex is going to be a princess. Is that crazy?" LOL. Geez, way to not rub it in, Frankel.
Regardless of how amicable the divorce between Markle and Engelson was or wasn't, I can imagine it would be difficult to witness an ex become engaged and then married to a literal prince. No matter which way you slice it — or how much of a big-shot, movie producer you are — that has to sting. Sill, it seems Engelson is doing well and has found love again. Sometimes, marriages don't work out — and that's okay.
Besides, being previously married to the woman who is now royaly is excellent creative fodder for work, right? The Daily Mail reported that Engelson is working on a new TV show "about a divorced American mother who moves to London to marry a British royal." (Doesn't sound familiar at all, does it?) In all seriousness, though, I was Trevor Engelson and Tracey Kurland the best of luck as they begin this next chapter of their lives together.